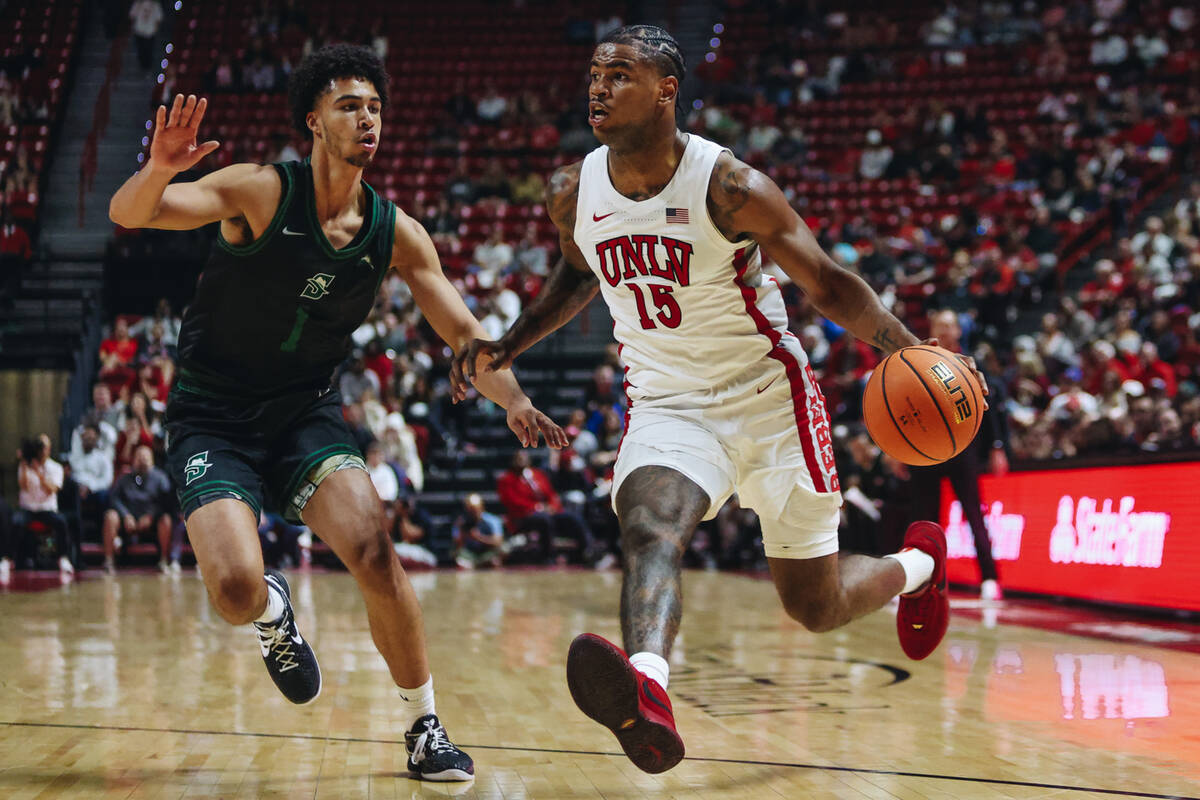 Luis Rodriguez and the Rebels had something to prove.
The UNLV men's basketball team was embarrassed in its season-opening loss against Southern on Wednesday. The Rebels struggled to defend and looked stagnant on offense.
They still have a long way to go before they can convince Las Vegas that their stated preseason expectations of contending for a Mountain West title and a return to the NCAA Tournament were justified, but the Rebels took a step in the right direction Saturday.
"Just getting back on track," Rodriguez, a fifth-year wing, said.
UNLV cruised to a 71-55 victory against Stetson at the Thomas & Mack Center. Fifth-year forward Jalen Hill scored 14 points and grabbed 13 rebounds, while Rodriguez led the Rebels with 15 points. Junior guard Jackie Johnson III added 10 points on 50 percent shooting off the bench.
The Rebels (1-1) have a few days off before playing at Pepperdine on Friday.
"Obviously a much better night," coach Kevin Kruger said. "Much better intent from the start. We weren't passive at all, very assertive and aggressive."
UNLV's performance was a marked improvement from the season opener, especially defensively. Kruger praised his team's defensive commitment, as Stetson (1-1) was held to 31.8 percent shooting from the field. UNLV turned missed shots into transition opportunities, scoring 10 fast-break points.
Additionally, the Hatters went 7 of 31 from 3. Southern made six 3s in the first half Wednesday and finished the game 11 of 18 from beyond the arc, but UNLV rotated much better against Stetson and closed out on shooters.
The Rebels' defense was further aided by fifth-year forward Kalib Boone's return.
Boone served a one-game suspension during Wednesday's opener after his arrest for a misdemeanor DUI on Oct. 1. The Oklahoma State transfer had nine points, four rebounds, three assists, two steals and two blocks in his UNLV debut.
"He changed the whole game," Rodriguez said. "Defensively, offensively, he's a willing passer in the post, just experienced. You can tell we needed that Wednesday. He adds lots to what we're trying to do."
UNLV also got a positive response from freshman guard Dedan Thomas Jr. The freshman from Liberty High dished nine assists against zero turnovers after giving the ball away five times in his debut Wednesday, and scored four points.
"I've got great pieces around me, so they make it easy for me," Thomas said.
Hunt's jersey ceremony
UNLV honored Anderson Hunt, a standout on the 1990 national championship team, by retiring his jersey during a ceremony at halftime, raising a banner with his No. 12 into the rafters.
Hunt is the fourth member of UNLV's title-winning squad recognized with a banner, joining Larry Johnson, Stacey Augmon and Greg Anthony.
Kruger, who said he used to imitate Hunt as a child growing up in Florida, said it was an honor long in the making.
"Just happy for him," Kruger said.
Contact reporter Andy Yamashita at ayamashita@reviewjournal.com. Follow @ANYamashita on X.
Original News Source Link – LVRJ

Digital Marketing Experts Check out digital marketing experts at KingdomX.com