More than 200 pro-Palestinian protesters blocked off traffic on the San Francisco Bay Bridge, with some people chaining themselves together across lanes and shutting down a vital Bay Area route during the busy morning commute.
Protesters blocked the westbound lanes of the bridge, heading into San Francisco, and chanted, "Cease-fire now!" while others unfurled a large banner that read "No military aid to Israel," according to videos posted on the social media platform X by the Arab Resource & Organizing Center, one of the groups involved in the protest.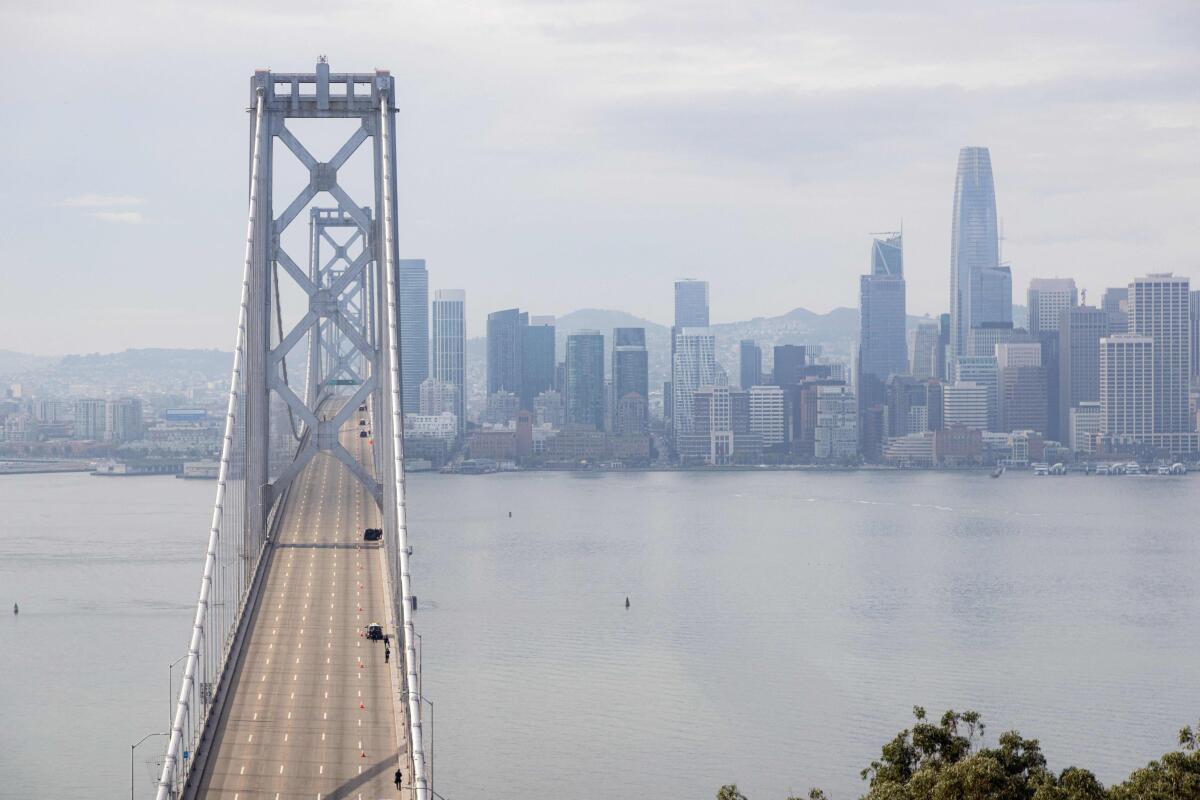 The protest comes as President Biden and world leaders met in the area for the Asia-Pacific Economic Cooperation conference. Protesters at the bridge told The Times the goal was to disrupt the conference and draw the attention of world leaders, especially Biden, to the armed conflict and deaths of Palestinians in Gaza.
"[Biden] is neglecting the community who is calling for a cease-fire, and as long as they are being ignored, community members are willing to shut it down week after week," said Rami Abdelkarim, an organizer with the Palestinian Youth Movement, one of the organizations that helped coordinate the protest.
Some protesters, with signs on their backs that read, "The people demand a cease fire," lay down across lanes on the busy bridge, while others unfurled a large white banner that read "Genocide" in red block letters.
Although lanes were not blocked on the eastbound lanes, traffic in both directions was affected, said California Highway Patrol Officer Art Montiel. By 11 a.m. officers were still working to clear a lane for traffic on the westbound lanes, he said, adding there was no estimate on when the bridge would be cleared.
Protesters began blocking lanes on the bridge at about 7:40 a.m., said CHP Officer Andrew Barclay.
Barclay said it was unclear how many police officers responded to the protest, but said "a large amount of personnel" were called to help clear the bridge.
Several CHP officers were deployed wearing protective gear, he said.
According to the Metropolitan Transportation Commission, about 3.7 million cars cross the bridge on a monthly basis.
By 10 a.m., video from Fox KTVU showed several people detained, their hands bound behind their backs with zip-ties, sitting on the shoulder of the bridge.
Mohamed Shehk, a member of the Arab Resource Organizing Center, told The Times about 50 people appeared to have been detained by police at some point, a figure that was confirmed by highway patrol officers.
Shehk said his organization, as well as at least a dozen others, organized the protest Thursday because of the nearby APEC summit.
"We want to see an immediate halting of Israeli bombings of the Palestinian people," he said. "We're here to send a strong message that there will be no business as usual as long as the genocide of Palestinians in Gaza continues, and as long as the United States continues to blindly support this genocide through political cover and direct military funding."
Original News Source Link – LA Times

Running For Office? Check out Election Day Strategies