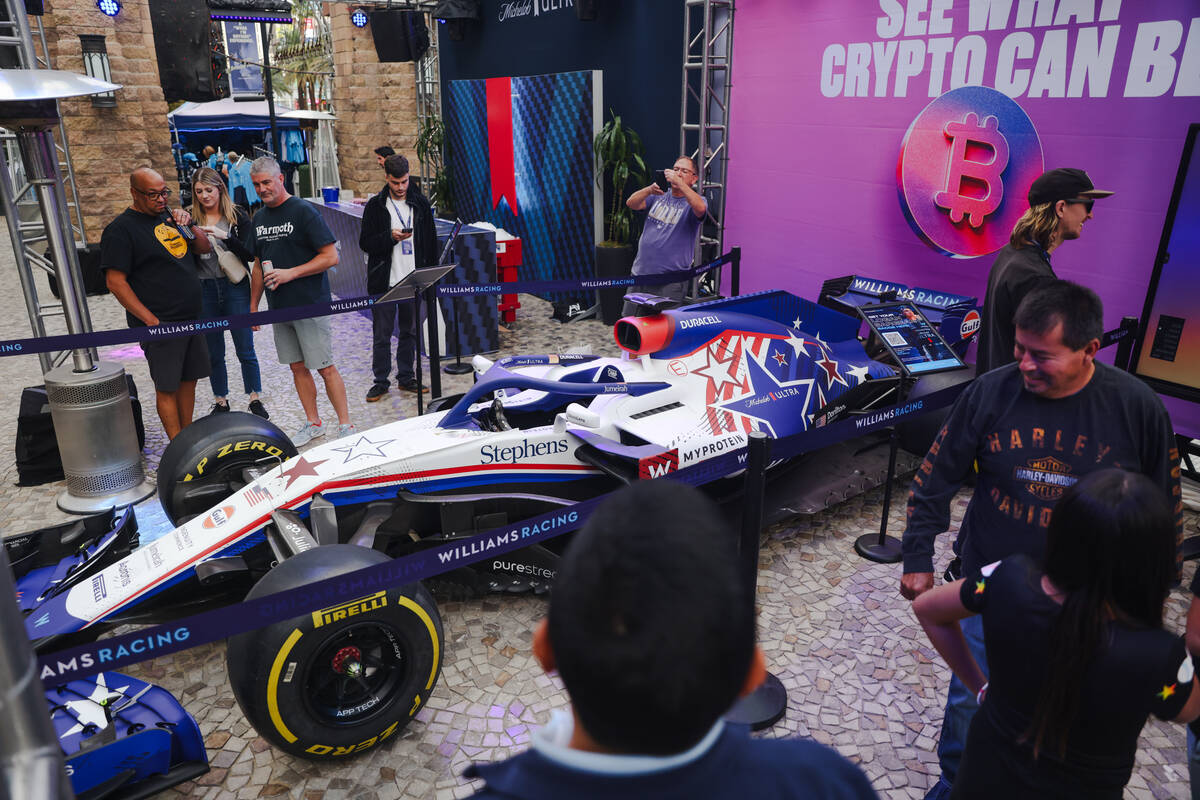 It may be unusual to see a Formula One racing car on the Brooklyn Bridge. But under the New York-New York replica Monday, Las Vegas tourists caught a glimpse of just that — and of the F1 hype — while strolling past the spot along Las Vegas Boulevard.
The inaugural Formula One Las Vegas Grand Prix begins Thursday and racing fans have already descended on the Strip. On Monday, official race and team merchandise shops began cropping up along Las Vegas Boulevard, drawing in some fans who wanted to attend the race but settled for visiting Vegas a few days before.
San Antonio residents Erica and Duane Bryant visited the Williams Racing Fanzone Experience at New York-New York when it opened at noon Monday. The British racing team opened the activation that will run through Saturday, noon to 10 p.m. daily. Fans can shop team gear, take pictures of an Fw41 car, and even participate in meet and greets with team drivers.
The Bryants have been F1 fans for several years, they said, and had an immediate response when the Vegas Grand Prix was announced.
"We're going," Duane Bryant said.
They booked hotel rooms for the race week, but changed their minds when the grandstand ticket prices were first announced for several thousand dollars.
"We were like, well we can't come for race weekend but the weekend before is Veteran's Day, so let's check it out," Erica Bryant said, pointing out her husband's veteran status. "We were surprised to see how much F1 activity they have going on. We saw a few of the cars in some of the hotels."
At the F1 Las Vegas Hub, a pop-up shop in The Venetian, fans perused the T-shirts, uniforms, varsity jackets and accessories that were grouped by racing teams. The store opened Monday morning to a crowd of about 50 waiting in line for the exclusive merchandise, a store employee said. The F1 Hub, open 10 a.m. to 6 p.m. daily through Nov. 23, is one of the only places selling official team gear for non-ticketed fans, as many merch shops will be within the track during race events.
"The F1 Las Vegas Hub is designed to be a place where both ticketed and non-ticketed fans can engage with the excitement of our inaugural race," Renee Wilm, Las Vegas Grand Prix Inc. CEO, said in a press release announcing the pop-up shop. "It was important to us to create more than just a retail shop. We want (to) give visitors and locals a space to interact with fun activations and commemorate the first-ever Las Vegas Grand Prix with new merchandise."
Scottsdale, Arizona residents Kate Vincent and Paul DeVane said they planned an F1-related trip right before the race to see how the event was organized. DeVane said the cost of tickets and other event-related expenses turned them off to tickets "on principle," but they decided to visit the Strip through Wednesday to see the setup.
"I wanted to see the track, just to see the layout," DeVane said. "We were here a few months ago so we see the change in the city."
The Bryants decided they want to return for the next race, inspired by all the fanfare they saw over the weekend. They said they'll try to get tickets in 2024 – but perhaps look for restaurant watch parties over grandstand tickets.
"Knowing that they have events like this around the Strip, we'll come even if the tickets are outrageous," Erica Bryant said. "We may not have tickets to go to the race, but at least to the events."
McKenna Ross is a corps member with Report for America, a national service program that places journalists into local newsrooms. Contact her at mross@reviewjournal.com. Follow @mckenna_ross_ on X.
Original News Source Link – LVRJ

Digital Marketing Experts Check out digital marketing experts at KingdomX.com