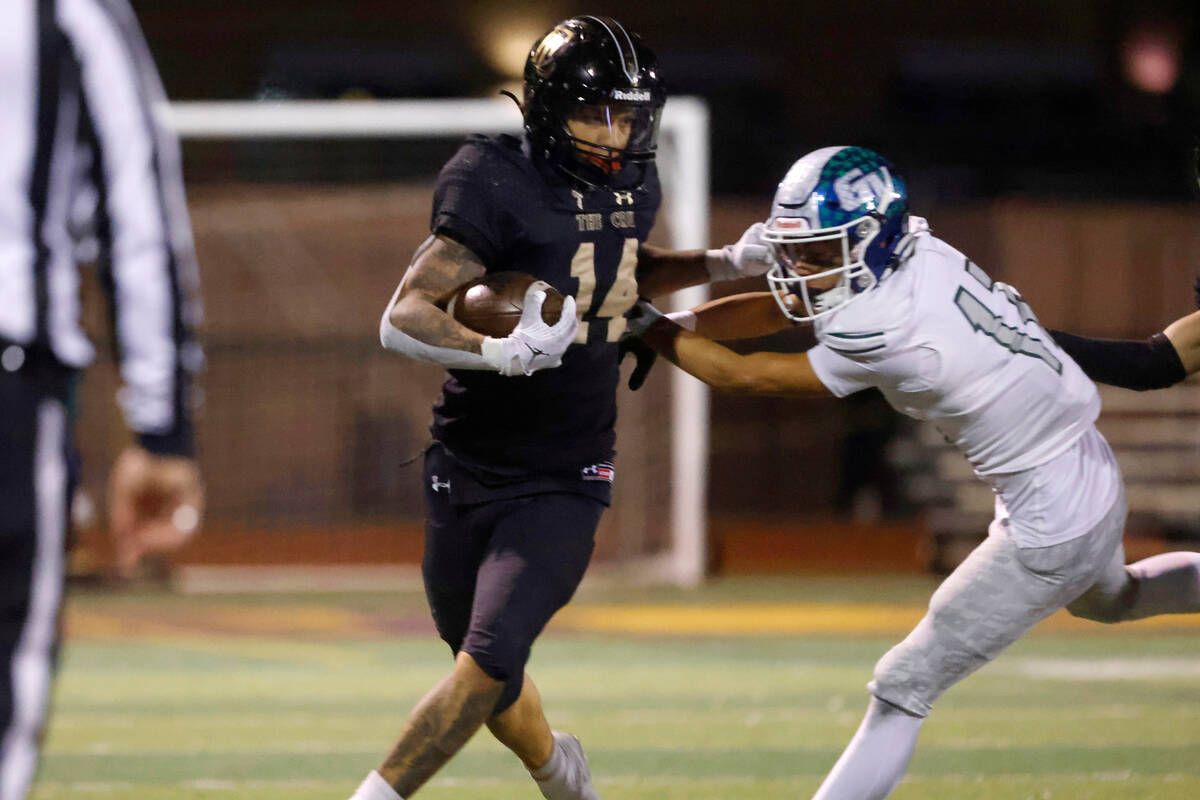 Faith Lutheran took advantage of its passing game to build a 20-point halftime lead Friday night.
Running back Cale Breslin put the game away.
Breslin had 17 carries in the second half and broke off a pair of long scoring runs to help the Crusaders finish off a 37-0 home win over Green Valley in the Class 5A Division II Southern League championship game. He finished with 217 yards on 30 carries.
"He's going to be a little tired tomorrow and a little sore the next couple days," Faith Lutheran coach Mike Sanford said of Breslin, who carried the ball on all but one of the team's plays in the second half.
The Crusaders (9-3) advance to face Bishop Manogue — a 28-10 winner Friday over Spanish Springs — in the 5A Division II state title game Nov. 21 at Allegiant Stadium.
Breslin scored on a 46-yard run on the Crusaders' second offensive play of the third quarter, pushing the team's lead to 27-0.
It took him three carries on the next possession, but he again showed great burst through a hole, cut the ball inside near the 30-yard-line and ran away from the defense for a 47-yard touchdown.
"It was good; it was great," Breslin said of getting the ball so much in the second half. "I love carrying the rock. Anything I can do, I'll just do it for the team."
It was his second straight big playoff performance, after he ran for 168 yards and two TDs in a 43-22 win over Foothill in the semifinals.
"He's been getting better as the season's gone on," Sanford said. "He's running hard, he's making really good decisions, he's been very unselfish, he's been a team guy. I just love how he's come along as a player and as a person."
While it was all Breslin in the second half, the Crusaders leaned heavily on junior quarterback Alex Rogers in the first half.
Rogers had shared time with Garyt Odom in Faith Lutheran's two-quarterback system all season. But with Odom on crutches on the sidelines, Rogers completed 7 of 12 passes for 155 yards and two TDs in the first half to help build the lead.
"Both he and Garyt Odom have improved through the course of the year," Sanford said. "And whatever happened, if one of them got hurt, the other one was going to be ready. I didn't know he'd be that ready."
Rogers had an 18-yard TD pass to tight end Cade Keith to put Faith Lutheran up 7-0 with 3:13 to go in the first quarter. He added a 25-yard scoring strike to Griffin Carty to push the lead to 20-0 with 4:16 left in the half.
"He went crazy," Breslin said of Rogers.
Rogers completed his only attempt of the second half, finishing with 167 yards through the air.
As good as Breslin and Rogers were, Faith Lutheran's defense might have been better. The Crusaders held Green Valley (5-7) to 55 yards of offense and harassed quarterback Jack Thow throughout the game.
"That was huge in this game," Sanford said. "Our defense applied a lot of pressure and got to him. For the most part, we had so much pressure on him he couldn't function."
The Crusaders sacked Thow seven times. Joseph Nicci and Cole Keith each had a pair of sacks for Faith Lutheran.
"It feels amazing," Breslin said. "We worked all offseason for this. We had great two-a-days, great team bonding. And the team just came together. Everybody did their jobs. So it was a great win."
Original News Source Link – LVRJ

Digital Marketing Experts Check out digital marketing experts at KingdomX.com