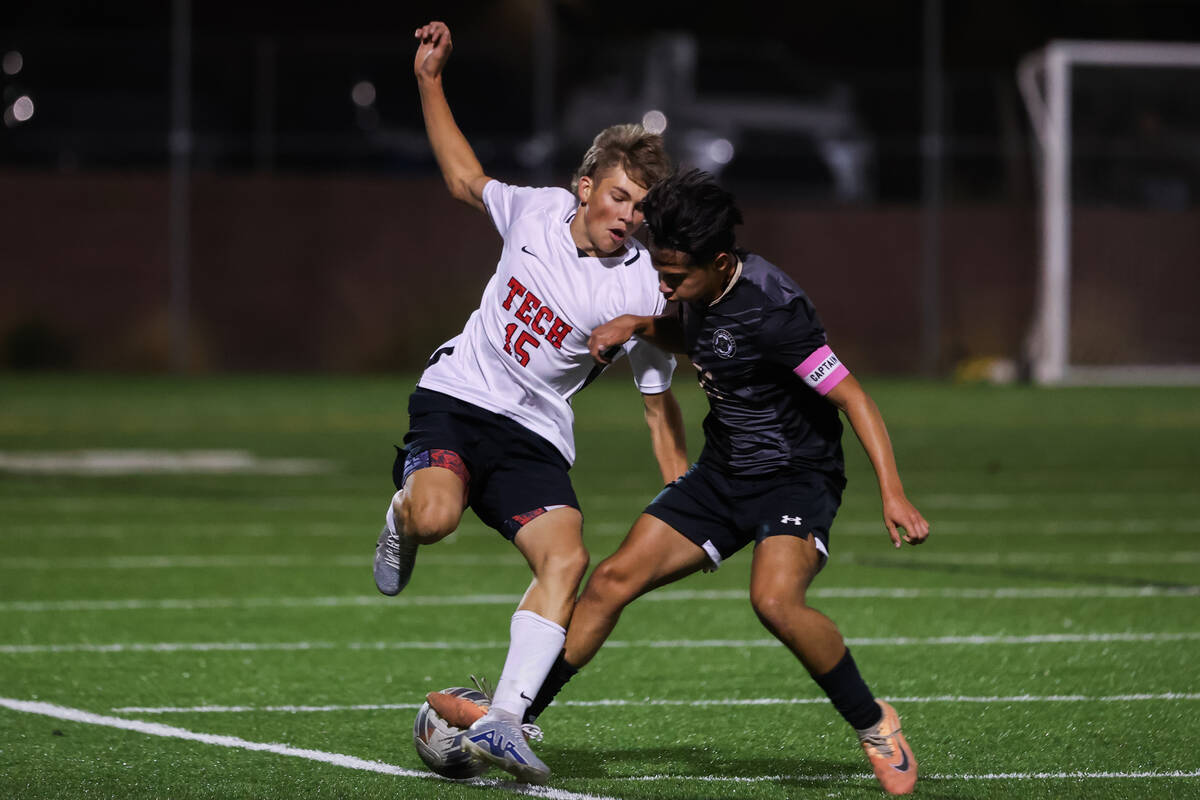 Walter Ochoa has been Bonanza's go-to player throughout the season, so it wasn't surprising that he recorded the game's biggest play again on Monday.
The senior striker scored the game-winner in overtime to give the Bengals (No. 2 Desert League, 14-4) a 3-2 home victory over Liberty (No. 3 Mountain League 16-4-2).
It was the second goal of the game for Ochoa, whose team advances to the semifinals. The Bengals play Faith Lutheran at Coronado Friday at 2 p.m.
Jose Quintero also scored a goal for Bonanza, and goalkeeper Adrian Avalos had nine saves.
■ No. 1M Faith Lutheran 2, No. 4D Tech 1: At Faith Lutheran, Cameron Sullivan scored on a penalty kick in the last minute of double overtime as the Crusaders (17-2-3) rallied to beat the Roadrunners (14-8-3). Huba Hajdu also scored a goal for Faith Lutheran, and Travis Rabe added an assist.
■ No. 1D Sierra Vista 4, No. 4M Rancho 0: At Sierra Vista, Dominic Portale and Lazzar Ramos each finished with a goal and an assist as the Mountain Lions (16-2-1) blanked the Rams (8-5-1). Goalie Nicholas Durazzo recorded the shutout with three saves for Sierra Vista, which raced out to a 3-0 first-half lead.
■ No. 6M Cheyenne 2, No. 2M Canyon Springs 0: At Canyon Springs, Angel Navarro and Ricardo Mendoza each scored a goal to lead the Desert Shields (6-8-2) to an upset win against the Pioneers (21-3-2). Cheyenne will face Sierra Vista in the other state semifinal at 4 p.m. Friday at Coronado.
Girls volleyball
Class 2A
■ No. 1 GV Christian 3, No. 2 Lake Mead Academy 1: At GV Christian, Ellie Thurman had 25 kills to lead the Guardians (27-8) to a 19-25, 25-15, 25-18, 25-21 win over the Eagles (17-4) to claim the Southern Region title.
The match had been suspended Saturday tied 1-1 due to a power outage in Henderson.
Both teams advance to the state tournament at Sunrise Mountain, which begins Friday with state semifinal action. GV Christian will play Pershing County at 10 a.m., and Lake Mead will play Northern champion North Tahoe at 11:45 a.m.
Original News Source Link – LVRJ

Digital Marketing Experts Check out digital marketing experts at KingdomX.com