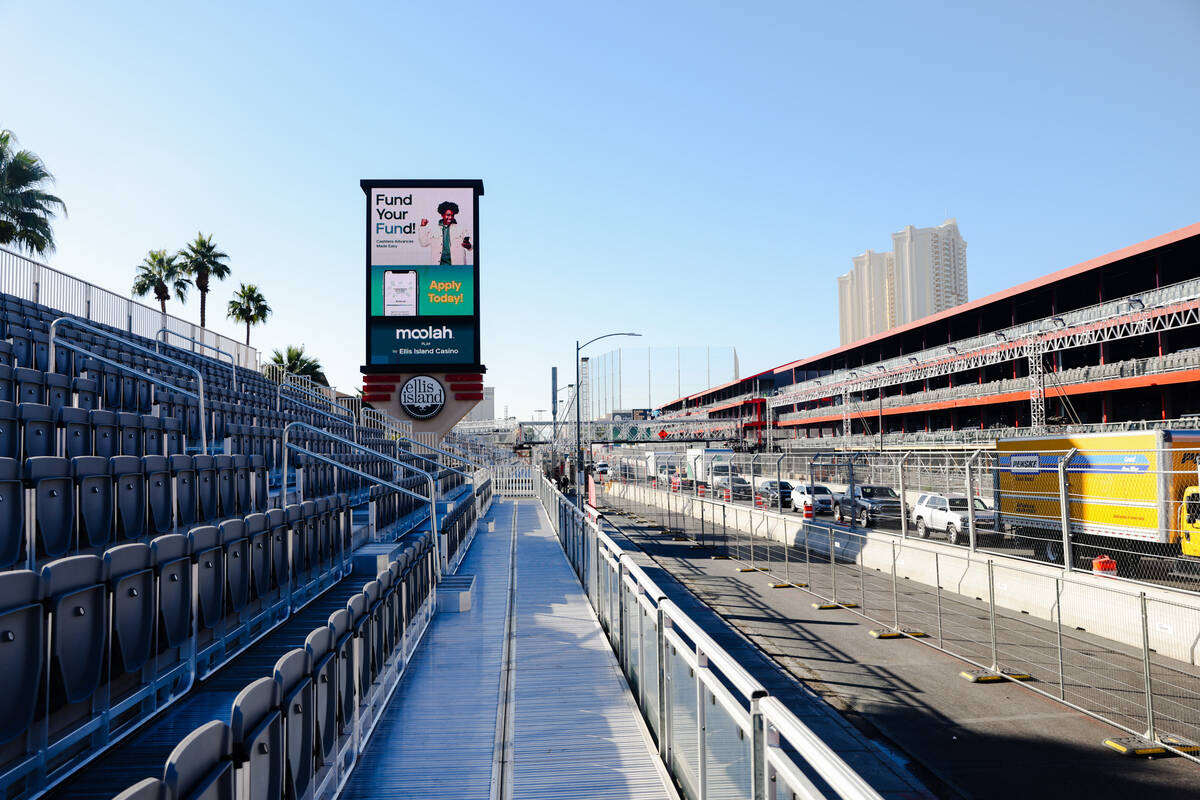 The Formula One Las Vegas Grand Prix has turned into a love-hate relationship with the community, and readers have been emailing me to complain about it.
The race, one of the top international sporting events Las Vegas has ever hosted, is expected to bring thousands of fans to the city, many of them for the first time.
In the beginning, this seemed like a pretty good idea, considering that international arrivals have been down and the city has emerged as one of the top sporting event destinations in the world.
But as we've reached less than two weeks before the big event, more and more concerns have been raised about what F1 will do to the city, how it already has impacted us and what we can look forward to in the nine-plus years of future races.
Here are some of the love/hate issues, including some reader remarks:
■ LOVE that Las Vegas is going to get a mighty boost from all the publicity that will be generated during race week, particularly Nov. 16-18 with course practice runs, time trials and the race itself.
■ HATE that the organizers of the race haven't exactly been up front about expectations of the city and county for race preparations. Example: Paving the course with fresh asphalt even before it was explained who would be footing the bill.
■ LOVE that some businesses are going to have record profits based on the number of people who will be in town.
■ HATE that not all businesses will profit. Some, in fact, will see diminished results because their companies have been and will be blocked due to road construction and race closures. "Only the rich get richer and the guy trying to sell T-shirts on the Strip is ignored," reader John Michael Heath emailed me. "The average Joe is screwed once again." In last week's earnings conference call with investors, Allegiant Travel Co. CEO Maurice Gallagher said his company didn't see a boost as a result of the race.
■ LOVE that a new demographic of visitor will be coming to the city, even though anecdotally the international crowd doesn't tip as well as domestic travelers.
■ HATE that the big arrival is being used as leverage to force resorts to sign labor agreements. Yes, all the contract issues should have been aired and completed months ago. But now, unions have the ability to force unreasonable conditions during bargaining thanks to a strike threat.
Cutting trees
■ LOVE that the temporary grandstands for race viewers will provide a good experience for fans.
■ HATE that MGM Resorts International ripped out all the trees in front of Bellagio for better sightlines. MGM CEO Bill Hornbuckle told CNBC anchor Contessa Brewer, a self-admitted "tree hugger," that the trees would be back. "Oh, you're killing me," Hornbuckle told Brewer during a Global Gaming Expo keynote. "We have additional trees that will go in pots that we are going to bring back. I promise. I've gotten so beat up on this on social media."
■ LOVE that some of the streets in the resort corridor are going to be pothole free with all the paving that's occurring.
■ HATE that traffic on the Strip has been unbearable for months thanks to the preparations necessary to finish the job.
■ LOVE that gaming and visitation numbers should exceed record levels in November. But what do you do for an encore?
■ HATE that resorts overestimated the demand and set hotel rates extremely high for race week. It's true that in recent weeks, the cost of a Las Vegas hotel room has come down during race week, but they'll still exceed the average by hundreds of dollars per night at most properties.
■ LOVE that international race fans will converge on the city for an exciting event.
■ HATE that locals have seemingly been left out. Race organizers finally offered a special rate for locals a few weeks ago — but it's only for the preliminary practice runs and not the race itself.
Airport matters
■ LOVE that record numbers of aircraft bringing fans and crews will be coming to Harry Reid International Airport. Fuel and aircraft parking will boost airport coffers and taxes will lead to additional airport improvements.
■ HATE that any local passengers leaving Las Vegas during race week will have the added stress of road closures and there's a suggestion from Reid officials that passengers begin planning their route four hours before flight time and arriving at the airport three hours before departure.
■ LOVE that the pedestrian overpasses have glass to give people a view of the course and, on the bridge over Sands Avenue between Wynn Las Vegas and The Venetian, a great look at the city's newest attraction, the Sphere.
■ HATE that plastic screens made of the same material as car and building wraps have been installed on that glass to discourage people from getting those views. Some pedestrians have taken matters into their own hands by ripping the wraps to get the view, vandalism that is likely to become a new F1 cost to taxpayers.
■ LOVE that the Las Vegas Convention and Visitors Authority has come up with a plan to get Strip employees within the race zone to work with free parking at the Las Vegas Convention Center and shuttle buses and Monorail discounts to get to work during race week. Temporary bridges are making some resorts more accessible.
■ HATE that the LVCVA board, composed mostly of resort executives, pushed hard to bring F1 to Las Vegas in the first place, thinking more about the upside financial benefit than the logistical problems that would result. "This is just another opportunity to have Las Vegas ruin the visit to Sin City by the foreigners and large gambling clients who will attend the event next month," reader Louis Du Lude wrote me in an email. "I am a large fan and proponent of this opportunity for Las Vegas to get back its swagger with foreign travelers and this chance to do this seems to be offset by the greed of the Las Vegas community." And an Uber driver I know suggested some of those bridges ought to become permanent to increase traffic flow.
■ LOVE that we'll learn from this first-time experience and do better next year.
■ HATE that the city has committed itself to future races without seeing the outcome this year.
Contact Richard N. Velotta at rvelotta@reviewjournal.com or 702-477-3893. Follow @RickVelotta on X.
Original News Source Link – LVRJ

Digital Marketing Experts Check out digital marketing experts at KingdomX.com