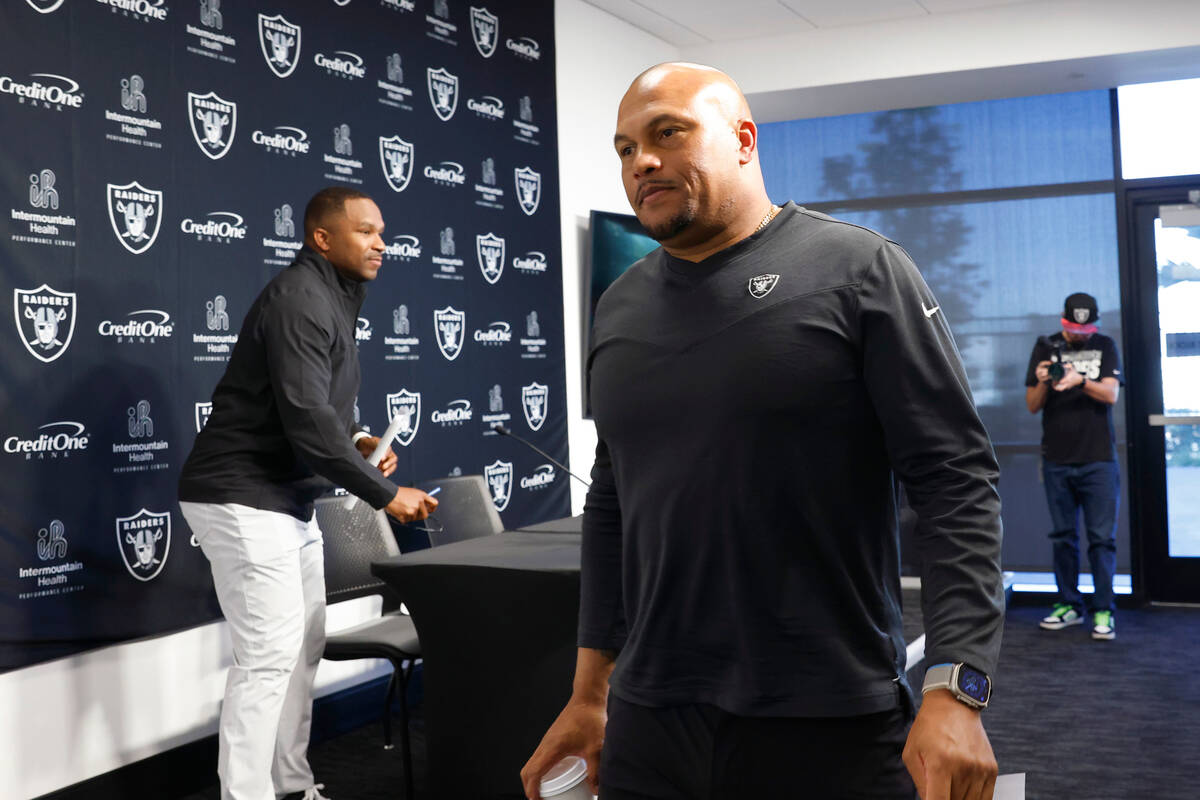 The biggest mistake Raiders owner Mark Davis made the last time he was tasked with hiring a head coach — aside from picking proven failure Josh McDaniels — was believing the Raiders were closing in on contention.
Instead, they're still mired in their perpetual rebuild — and it probably won't end until it actually begins.
The firing of McDaniels as coach and Dave Ziegler as general manager Tuesday night gives the franchise another opportunity to reset. But this time, they'd be wise to operate as if they're anything but a contender.
Whoever Davis hires to replace McDaniels and Ziegler full time — be it interim coach Antonio Pierce and general manager Champ Kelly, depending how they show — should be encouraged to strip the roster of its remaining assets and build exclusively with the future in mind.
"Excited to bring this vision tomorrow," Kelly said. "But we're not looking forward to tomorrow. Tomorrow will worry about itself. We're focusing on the now. Our team is focusing on the now. Those players are focusing on right now. That's all we have."
Ground to gain
Granted the Raiders aren't as futile as they've played this season under McDaniels, who served to undermine their collective talent the moment he was hired.
They should show improvement the next nine weeks on the strength of his dismissal alone.
Though ranked 30th in scoring (15.8 points per game) and 31st in yards (268.3), their offense is chock full of reputable playmakers such as Davante Adams, Josh Jacobs, Jakobi Meyers and Hunter Renfrow.
Their defense — anchored by Maxx Crosby — is finally showing signs of life, jumping from 27th a year ago in yards allowed (365.6) to 19th this season (337.6).
But unless they acquire an established superstar quarterback in the offseason — um, good luck with that — the Raiders won't be contending for anything material next season.
Patrick Mahomes and the Chiefs still own their division, and Justin Herbert's Chargers might be due a coaching upgrade, too. Outside the AFC West looms Lamar Jackson's Ravens, Joe Burrow's Bengals, Trevor Lawrence's Jaguars, Josh Allen's Bills and Tua Tagovailoa's Dolphins.
And that's just in the AFC.
Even the most spectacular rookie quarterbacks — and the Raiders should definitely draft a quarterback unless Aidan O'Connell is the second coming of Tom Brady — require a year or two of seasoning before they're ready to lead viable contenders.
Those teams boast better quarterbacks and deeper rosters than the Raiders, which is exactly why the new regime needs to build with an eye for 2025 and beyond.
Trades to consider?
Rebuilds are best executed through the NFL draft, and additional draft capital would support what's liable to be a high pick in 2024 (and potentially 2025).
Adams, who turns 31 next month, is better suited playing out his prime for a real contender that could maximize the impact he still obviously can make. He should have been moved ahead of Tuesday's trade deadline and could probably fetch a first- or second-round draft pick.
Crosby, 27 next season and entrenched in his prime, could garner multiple picks.
As dominant as they are, their greatness doesn't align with the rebuilding timeline a new Raiders' regime is going to face.
Other viable veterans (though there aren't many) should be shopped as well while the acquisition and development of promising young players should become a priority. The last regime hardly acquired any. Same with the previous one of Jon Gruden and Mike Mayock, whose missteps in the draft and free agency reverberated through the tenures of McDaniels and Ziegler.
The next one has an opportunity to do what the Raiders haven't in 20 years: Produce winning seasons in consecutive seasons, so long as a rebuild is finally embraced.
Contact Sam Gordon at sgordon@reviewjournal.com. Follow @BySamGordon on Twitter.
Original News Source Link – LVRJ

Digital Marketing Experts Check out digital marketing experts at KingdomX.com