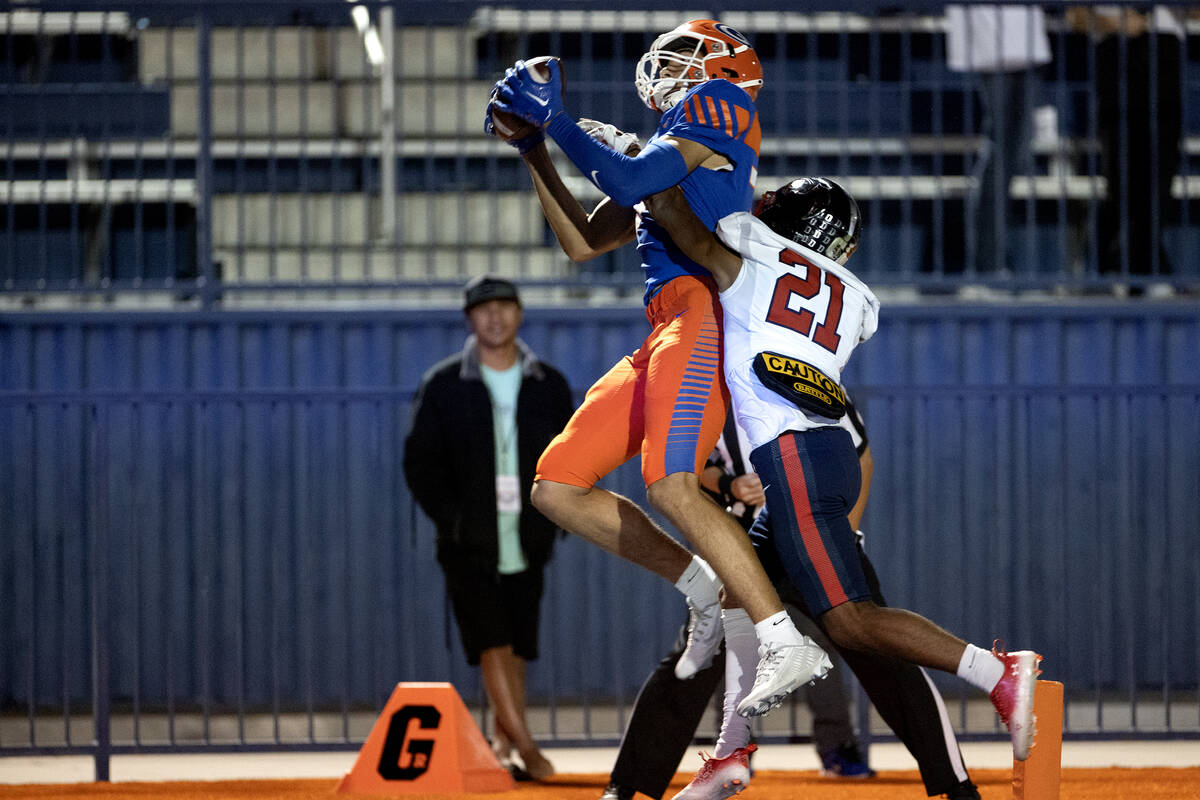 As the guitar riffs from Joe Satriani's "Always With Me, Always With You" echoed out into the cold November night, Bishop Gorman coach Brent Browner embraced one of his players.
The Gaels had just rolled to a convincing win. Their national championship aspirations were still well within their reach. Yet Browner found himself comforting one of the Gorman players, distraught about mistakes he'd made despite the final score.
"I just had a young man, a really great player that did really good things, that was just down on himself because he didn't feel like he played up to his potential," Browner said. "… It doesn't matter what the score is, they're holding themselves accountable."
Bishop Gorman cruised to a 63-12 home win against Coronado in a Class 5A Division I state semifinal Friday. Senior quarterback Micah Alejado threw for 210 yards and three touchdowns, and senior running back Micah Kaapana added 173 yards and two touchdowns.
Gorman (11-0) will play Liberty (10-2) for the 5A Division I state championship Nov. 21 at Allegiant Stadium.
"We expect the best from us," Alejado said. "We put in the work every single day to get the best from us."
Coronado (5-6) was in a difficult position before the game even began. The Cougars were forced to start freshman quarterback Jackson Humphries in place of junior Aiden Krause, who was ruled out with a knee injury.
Humphries threw two touchdowns — both to junior wideout Scott Holper — but was also intercepted three times. Coronado coach Shawn Dupris said he was proud of how his team and freshman signal-caller played despite the adversity.
"I thought we played really hard, a lot better than the first time," Dupris said, referring to Gorman's 49-7 win Oct. 20. "Last three weeks, we've played really good football, turned the corner a little bit. So it's really good going into the offseason with a little momentum and knowing what we can do."
Coronado only trailed 14-6 near the end of the first quarter, but Alejado and Gorman blew the game open in the second.
The Gaels' first drive of the second quarter ended with a 20-yard TD strike to 6-foot-6-inch junior receiver Derek Meadows. Alejado connected with Meadows again on Gorman's next possession, this time for a 57-yard touchdown on a deep post route down the middle of the field to give the Gaels a 26-6 lead.
Trying to keep the game close, the Cougars pulled out all their special teams tricks. Coronado executed a fake punt on its own 30-yard line on fourth-and-15, as junior running back Derek Hurley connected with junior wide receiver Jeffrey Buchanan all alone down the left sideline for a first down. Coronado also recovered an onside kick to open the second half.
It wasn't enough to stop the Gaels, though. Alejado led a clinical drive midway through the third quarter that was finished by a 1-yard run from junior Sione Motuapuaka, a defensive lineman. Gorman's next possession was brief, as Kaapana took the first snap 43 yards to the end zone.
"We didn't play our best. We could've came out here and played better," Kaapana said. "Our defense and offense could've done better on both sides, but it was good to have our seniors come out and play a good last game on this field."
Contact reporter Andy Yamashita at ayamashita@reviewjournal.com. Follow @ANYamashita on X.
Original News Source Link – LVRJ

Digital Marketing Experts Check out digital marketing experts at KingdomX.com