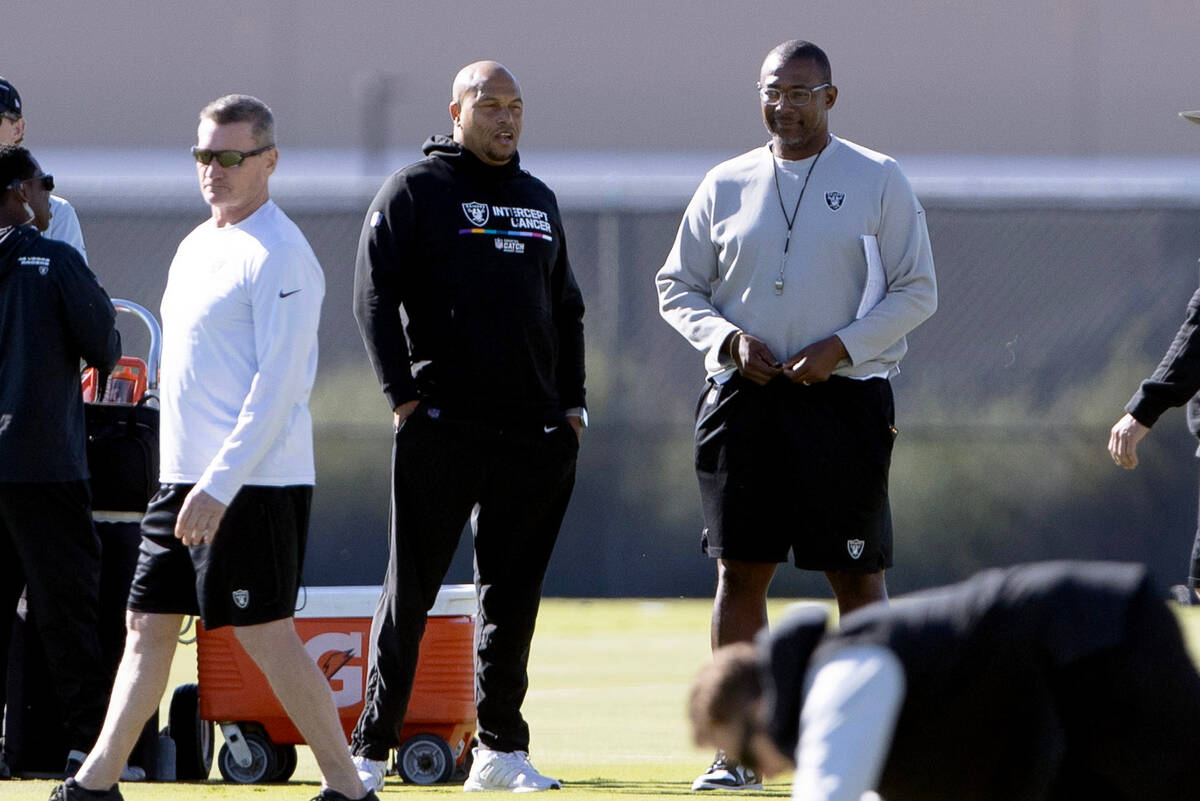 You can change culture overnight.
You can implement different ways to motivate. You can move on from that which didn't work.
That's the Raiders since the firing of Josh McDaniels as coach. How the team acts and approaches each day has been altered.
Most would say for the best. Most would be correct.
But while emotion defined the team's first victory under interim coach Antonio Pierce — a 30-6 rout of the Giants last Sunday — it will take more to continue such winning ways.
You can only smoke so many postgame cigars before reality sets in. There are eight games remaining. A short lifetime.
Pierce has addressed the issue, the one about maintaining a certain level of performance after the glee of a coaching change (oh, most players were beyond happy about it) wears off.
His plan: Have a winning stamina mentality — in meetings, at walk-throughs, during practice. And all of that begins with the team's captains, its leaders. Those who have the ears of the majority.
"Well, we knew last week was going to be emotion, and we checked that," said Pierce, whose team will host the Jets on "Sunday Night Football." "We can't win in the National Football League each and every week on emotions. We'll get burnt out. Now, it goes back to what football is all about — the execution, fundamentals, technique, doing your job, maintaining."
Gruden's missteps
You can change culture overnight.
It happened two years ago when then-coach Jon Gruden resigned under the cloud of emails being leaked that contained racist, homophobic and misogynistic comments. Threw things into a tailspin of sorts.
Rich Bisaccia took over as interim coach, and players embraced the fresh air of change, constantly supporting their new leader. It worked. The team finished 10-7 and qualified for the playoffs.
It was much like with Pierce. The immediate acceptance of a new voice. The instant support of a different message.
"We became closer as a team (after Gruden's departure), just naturally," star edge rusher Maxx Crosby said. "There was some crazy stuff going on around us. This now is a similar situation in that nobody expected it to happen, but everyone is re-energized. Everyone is excited. We just want to win and have fun doing it. People are feeling it and buying into it."
You can change culture overnight.
Much was made this past week about interim offensive coordinator Bo Hardegree approaching each position group before the Giants game to gauge what concepts players believed were working and what they felt most comfortable running.
He actually used the feedback as a way to devise the game plan.
It goes back to Pierce's belief about player empowerment, that those competing should have a larger say in how the program is run. You can see their happiness about it. Feel it in the locker room. Hear it in their voices.
I don't know how many games the Raiders will win from here until season's end, but any success or failure won't be because players weren't totally involved in the process.
Things are different around the Raiders. They're still just 4-5, but there is no question moving on from McDaniels ignited a fire within the room that had been lacking.
Flipping the switch
"Step by step, brick by brick," Pierce said. "Last week was the first step. We'll continue this week with our mindset. I think you can flip the switch anytime to be honest if you choose to. We do have 53 men and our coaches that do just that. They're choosing to make a difference.
"Again, I'm going to keep going back to the guys in the locker room kind of leading, not waiting till the horn blows, getting ahead, thinking ahead, being ahead."
Culture. It can change.
In a blink, it has.
Ed Graney, a Sigma Delta Chi Award winner for sports column writing, can be reached at egraney@reviewjournal.com. He can be heard on "The Press Box," ESPN Radio 100.9 FM and 1100 AM, from 7 to 10 a.m. Monday through Friday. Follow @edgraney on X.
Original News Source Link – LVRJ

Digital Marketing Experts Check out digital marketing experts at KingdomX.com