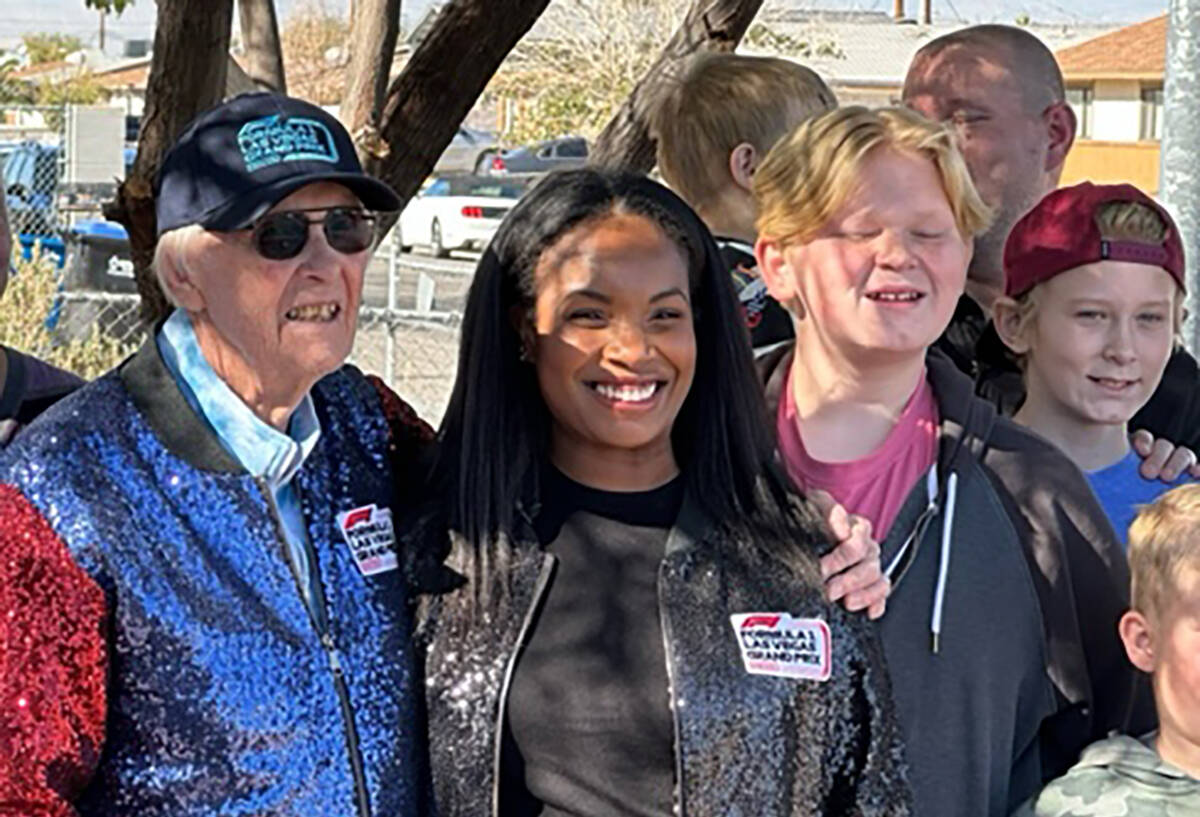 A former auto racing champion and Korean War veteran had a decades-long wish fulfilled Friday by surprise tickets to the Formula One Las Vegas Grand Prix this month.
Douglas Bowman, 91, opened the door to his Henderson home to find a race official with the tickets in-hand. Pilar Harris, a senior director for the event, delivered the gift alongside Bowman's family members and Clark County Commissioner Jim Gibson.
"I've been dreaming about this my entire life, ever since I started racing," Bowman said. "I thought, 'wow, maybe someday I could go to a Formula One race,' but I never had the money to go overseas to see one."
Gibson put the plan's wheels in motion after speaking with Bowman about his career as the driver and builder of a homemade Formula 4 level race car that won major competitions, including the Southern California Regional championship in 1965. He also piloted a Formula 3 car, built by someone else, to a U.S. national championship in 1971.
Like Formula One, the Formula 4 and Formula 3 races utilize open-wheel cars, but with less powerful engines.
"It came from his Formula 1 addiction," Gibson said of the gift. "He stood there and told me how deeply he loved Formula One Grand Prix racing."
The inaugural Las Vegas Grand Prix will take place from Nov. 16 through 18 on the Strip.
Receiving the tickets on Veterans Day weekend is a fitting tribute for Bowman, who comes from a family of service members. His father served in World War I, and his older brother served in World War II. Bowman himself joined the Naval Reserve after finishing high school in Southern California.
Before serving in Korea during the early 1950s, Bowman said he learned how to modify cars for extra speed as a "hot rodder" with his brother. In the Navy, he learned even more about inner workings of engines by fixing damaged bombers on the USS Valley Forge aircraft carrier off the North Korean coast.
"When planes would be shot up or fouled, they would get back and he would repair them, and his crew put them back together so they could fly the next day," Gibson said.
Bowman said his ambition to build homemade race cars came in his late 20s.
While working at the Lockheed Aircraft Company, he started playing around with Volkswagen engines and reading about Formula One races around the world.
Soon he was catching races on TV, and he even subscribed to Road & Track magazine. He fondly remembers the centerfolds, Formula One cars without a body.
"You could see the frame. You could see the whole suspension well," he said. "And I put them on the wall, and I started thinking I could build one of those."
Contact Jeff Burbank at jburbank@reviewjournal.com or 702-383-0382. Follow him @JeffBurbank2 on X.
Original News Source Link – LVRJ

Digital Marketing Experts Check out digital marketing experts at KingdomX.com