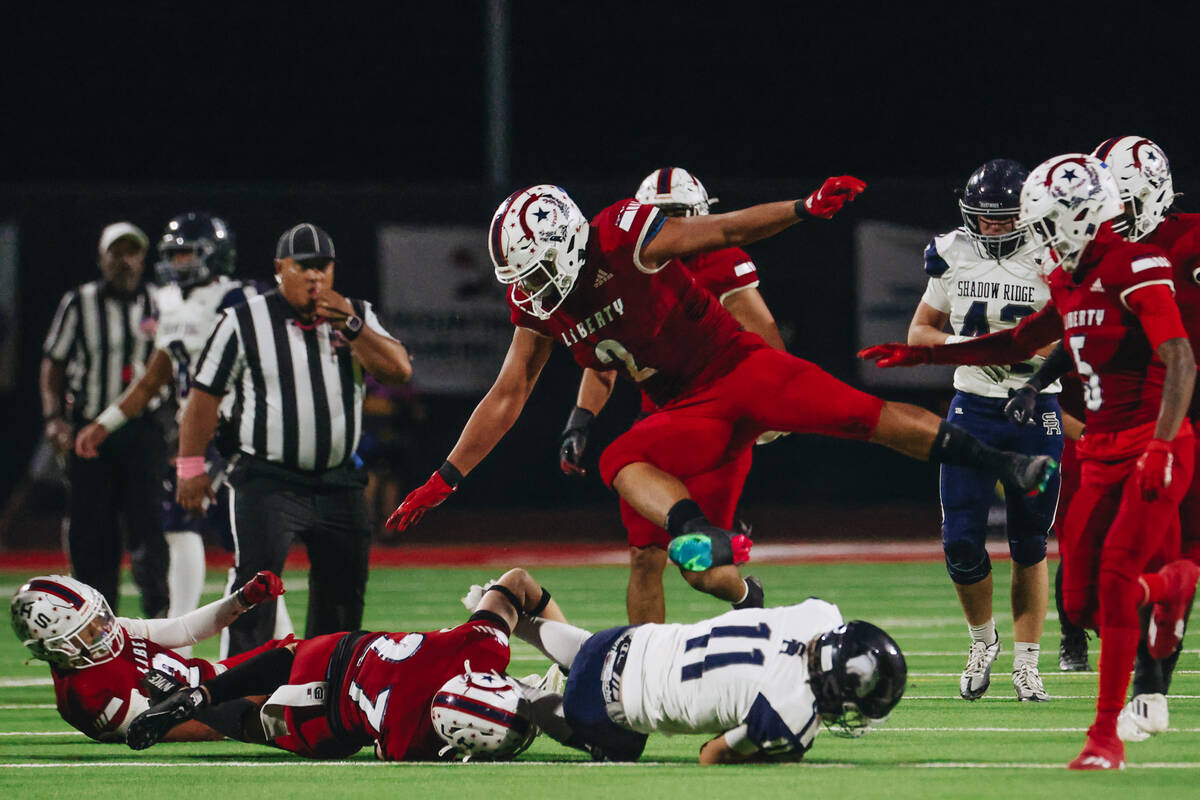 Playing against Shadow Ridge's triple option has given plenty of teams fits. It did so to Liberty when the Patriots held on for a 35-32 win Oct. 19 while allowing 307 rushing yards.
Getting a second look at the Mustangs in just over two weeks — and with a full week to game-plan after playing on a Thursday the first time — made a difference for the Patriots.
Liberty allowed just 100 rushing yards, and quarterback Tyrese Smith threw four touchdown passes as the second-seeded Patriots defeated No. 6 Shadow Ridge 27-8 Friday night at Liberty in a Class 5A Division I state semifinal.
"I harped on them the entire week and challenged them," Patriots coach Rich Muraco said. "… When (Shadow Ridge) ran for over 300 yards, I was kind of in their heads saying, 'We got to have some pride.' That wasn't Liberty football. The coaches devised a really good game plan. We gave different looks, and I think that gave (Shadow Ridge) fits."
Liberty (10-2) will play top-seeded Bishop Gorman — a 63-12 winner over No. 5 Coronado in the other state semifinal — for the 5A Division I state title Nov. 21 at Allegiant Stadium. Gorman rolled to a 49-6 win over Liberty in the teams' second-ever regular-season matchup Sept. 14.
"We wanted to be in the state championship game against Gorman," Muraco said. "We felt we should be in that game against Gorman, and we're excited for it. It's definitely something that as a program, we'd be very disappointed if we weren't in the state championship game."
Smith completed 15 of 18 passes for 184 yards. Three of his touchdown passes went to Jayden Robertson, who had four catches for 77 yards for the Patriots.
"We've really executed during the week of practice, and we practiced well. It was going to reflect in the game," Smith said.
Shadow Ridge (6-5), which upset third-seeded Arbor View 17-14 in the state quarterfinals Oct. 26, managed only 153 total yards of offense.
"We did a great job of stopping the run and forcing them to pass. … That's not the game (Shadow Ridge) wants to play," Muraco said. "Offensively, we were efficient, we controlled the clock and kind of gave them a taste of their own medicine of not having their offense be on the field as much."
Shadow Ridge ate up nearly six minutes on the game's opening drive but only managed to get to the Patriots' 45-yard line before having to punt.
Smith and the Liberty offense then took its time, taking up nearly five minutes before the senior quarterback finished the drive with a 39-yard touchdown pass to Robertson on third-and-22. The Patriots failed on the 2-point conversion attempt and led 6-0 late in the first quarter.
Liberty forced a turnover on downs early in the second quarter, and Smith delivered on another third down, connecting with Robertson again on a 14-yard TD on third-and-10 with 4:25 left before halftime. A pass from Robertson to Gravis Lopez on the 2-point attempt gave the Patriots a 14-0 lead.
Smith added a 10-yard touchdown pass to Robertson on the Patriots' first possession of the second half and a 23-yard strike to running back Isaiah Lauofo with over three minutes left in the fourth quarter to give the Patriots a 27-0 lead.
"Tyrese is a great leader," Muraco said. "Our offense kind of goes as he goes. When he's confident, he's making the right reads and he's accurate, then we're very hard to stop. And that goes with our offensive line giving him protection and Isaiah (Lauofo) running the ball."
Shadow Ridge scored its touchdown late in the fourth quarter on a 13-yard pass from Coen Coloma to running back Evan Cannon.
Contact Alex Wright at awright@reviewjournal.com. Follow @AlexWright1028 on X.
Original News Source Link – LVRJ

Digital Marketing Experts Check out digital marketing experts at KingdomX.com