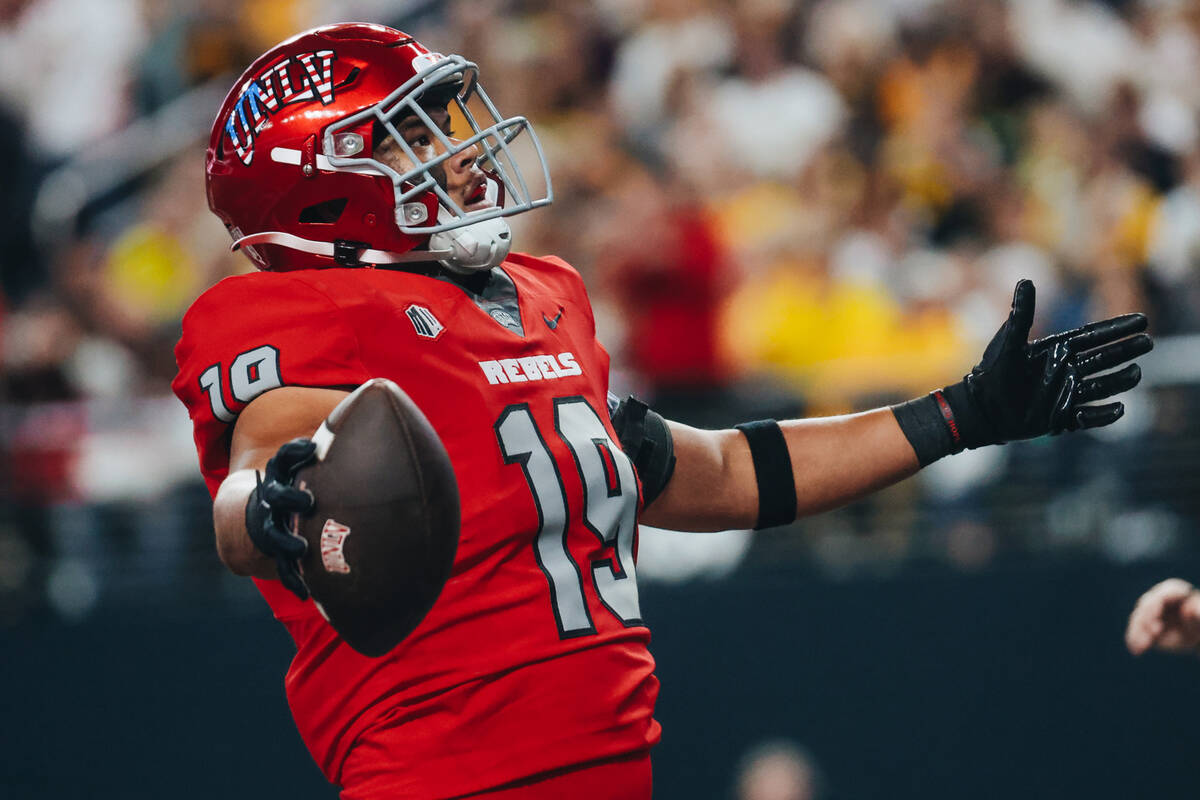 UNLV needed a response from its offense after allowing most of a big early lead to slip away Friday night against Wyoming.
Jayden Maiava delivered and helped lead the Rebels to a 34-14 victory over the Cowboys at Allegiant Stadium.
The redshirt freshman quarterback completed all four passes and converted a third down on a scramble before capping off a masterful drive with a 5-yard touchdown pass to Kaleo Ballungay to give UNLV (8-2, 5-1 Mountain West) some breathing room late in the third quarter.
"That was big," coach Barry Odom said. "Our team battled and responded. They have resolve and toughness in their mental approach to it, and those things are starting to show up. Our second quarter was awful. We did a bad job coaching in the second quarter, and fortunately for us, our players came out in the second half and played well."
The victory gave the Rebels their eighth win in a season for the first time since 2000 and just the fourth time since moving to Division I in 1978. More importantly, it kept alive UNLV's hopes of reaching the Mountain West title game with a big clash at Air Force on tap next week.
The Falcons (8-1, 5-0) are the last remaining unbeaten team in conference play. UNLV moved a half-game ahead of Fresno State (8-1, 4-1) with the win Friday.
"We're happy with what we're doing, but it's on to the next," Woodard said. "We have to keep winning if we want to reach the ultimate goal, which is a conference championship."
UNLV would control its own destiny for a bid in the conference championship should Fresno State lose one of its remaining games, including Saturday at San Jose State, where the Bulldogs are 2½-point underdogs.
On Friday, Wyoming (6-4, 3-3) had cut a 21-0 deficit to 21-14 and had threatened to tie the game before halftime when Cameron Oliver intercepted a pass at the goal line.
"I think that was the biggest play of the game," linebacker Jackson Woodard said. "It completely changed the game. Cam has made so many spectacular plays like that in other games and even in practice. He practices that way, and it shows up in the games. He's a phenomenal player, and he made a phenomenal play that was huge for our team."
It ensured that the Rebels took a lead into the locker room. Maiava made sure UNLV kept it.
After scoring touchdowns on their first three possessions, the Rebels came up empty on five consecutive drives before the 13-play, 70-yard march engineered by Maiava. It took up 6:18 and included third-down receptions by Jacob De Jesus and Ricky White. The Ballungay touchdown extended the lead to 28-14 and wrestled momentum away from the Cowboys.
UNLV went 3-for-3 on third downs on the drive and converted 9 of 15 overall in the game.
"We had a good film session this whole week about how they play third downs," Maiava said. "They're a great defense. We just executed."
The Rebels tacked on a pair of field goals in the fourth quarter.
Maiava completed 17 of 24 passes for 232 yards and a score. He also rushed for two touchdowns in the first quarter.
White had eight catches for 144 yards and became the first UNLV player to surpass 1,000 receiving yards in a season since Devante Davis in 2013 as the Rebels improved to 5-0 at home.
It looked early like the game was going to become a blowout. The Rebels built the 21-0 lead and had the ball looking to add to it before a fumbled snap near midfield.
At the time of the turnover, UNLV had outgained Wyoming 179-20 and the Cowboys had just one first down.
Wyoming cashed in on the miscue with a touchdown, then scored again after the Rebels failed to pick up a fourth-and-1.
UNLV appeared to be on its heels until the interception by Oliver stemmed the tide and the defense was able to build on the momentum after halftime, holding the Cowboys scoreless over the final 30 minutes.
"I think we lost (ourselves) a little in the second quarter," Woodard said. "We said in the locker room we know what we can do and how well we can play as a defense and I think we put it all together in the second half just taking it one play at a time with everyone handling their assignment.
"Coming out, the defense was all together playing as one unit how defense should be played, flying around fast and physical. I was proud of the group."
Contact Adam Hill at ahill@reviewjournal.com. Follow @AdamHillLVRJ on X.
Original News Source Link – LVRJ

Digital Marketing Experts Check out digital marketing experts at KingdomX.com