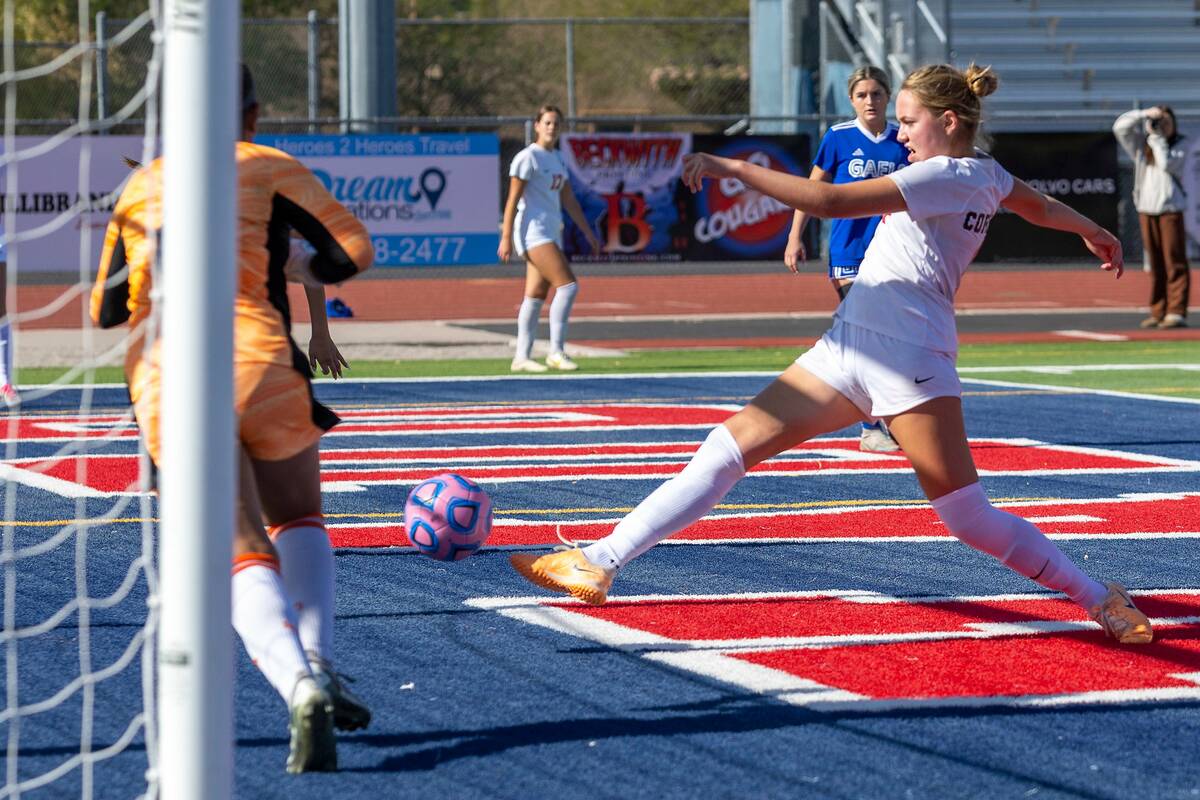 Megan Kingman has given the Coronado girls soccer team consistency at the goalie position for the last three seasons.
With a spot in the state title game on the line, the senior stood tall for the Cougars.
Kingman made several saves late, and Ryan Neel scored a goal early in the second half as No. 4-seeded Coronado upset top-seeded Bishop Gorman 1-0 in a Class 5A state semifinal Friday at Coronado.
Coronado (17-4-5) will play Faith Lutheran for the title at 10 a.m. Saturday at Coronado.
"They played connected," Coronado coach Dana Neel said. "This team, because we've been through so much, we're a close team, and that shows on the field. They were connected and communicated well."
Ryan Neel scored eight minutes into the second half, gathering a loose ball in front of the goal and tapping it in for the score. Kingman made saves on four scoring chances by Gorman (18-4-2) in the final 10 minutes.
Kingman "was confident and in the second half was really strong," Dana Neel said.
It's the fourth straight meeting between Coronado and Faith Lutheran for the title in the state's top classification.
Faith Lutheran defeated Coronado 1-0 in overtime to win the title last year and won it in 2019. The Cougars won the title in 2021.
"We have to play our game," Dana Neel said. "It's up to us, with what we bring. If we can keep our heads on and the mental aspect together, then we'll have it."
— No. 3 Faith Lutheran 3, No. 2 Liberty 0: At Coronado, Allison Rabe and Andrea Leyva scored in the first half as the Crusaders (18-4-2) blanked the Patriots (15-4-1) in the other 5A state semifinal.
"The girls worked hard and did exactly what we wanted them to do," Faith Lutheran coach McKenzie Karas said. "(The early goals) set the tempo, and it gave us a lot of positivity and the energy we needed."
Brianna Lee added a second-half goal, and goalie Demi Gronauer recorded the shutout for the Crusaders.
Coronado and Faith Lutheran played to a scoreless draw Sept. 13. The Crusaders won at home 3-1 on Oct. 19 in the teams' most recent meeting.
"It'll be another good Faith-Coronado game," Karas said. "It'll be another good battle. I can't complain, that's who I was hoping to be in the championship game against."
Boys soccer
— No. 1S SLAM Academy 3, No. 2N North Tahoe 1: At Cristo Rey, the Southern Region champion Bulls (19-1) scored twice in the first half and held off the Lakers (14-8-2) in a 3A state semifinal.
SLAM Academy will play Northern champion South Tahoe — a 3-1 winner over Virgin Valley in the other semifinal — for the state title at 10 a.m. Saturday at Cristo Rey.
Girls volleyball
— No. 1S GV Christian 3, No. 2N Pershing County 2: At Sunrise Mountain, Ellie Thurman had 27 kills and seven aces as the Guardians (28-8) won a five-set thriller 25-10, 25-16, 24-26, 24-26, 16-14 over the Mustangs (18-11) in a 2A state semifinal.
GV Christian will face Northern champion North Tahoe — a 25-13, 25-13, 25-21 winner over Lake Mead Academy in the other semifinal — for the state title at 10 a.m. Saturday at Sunrise Mountain.
State semifinals in girls volleyball and boys and girls soccer are being played across the state Friday.
This is a developing story. Check back for updates.
Contact Alex Wright at awright@reviewjournal.com. Follow @AlexWright1028 on X. Contact Jeff Wollard at jwollard@reviewjournal.com.
Original News Source Link – LVRJ

Digital Marketing Experts Check out digital marketing experts at KingdomX.com