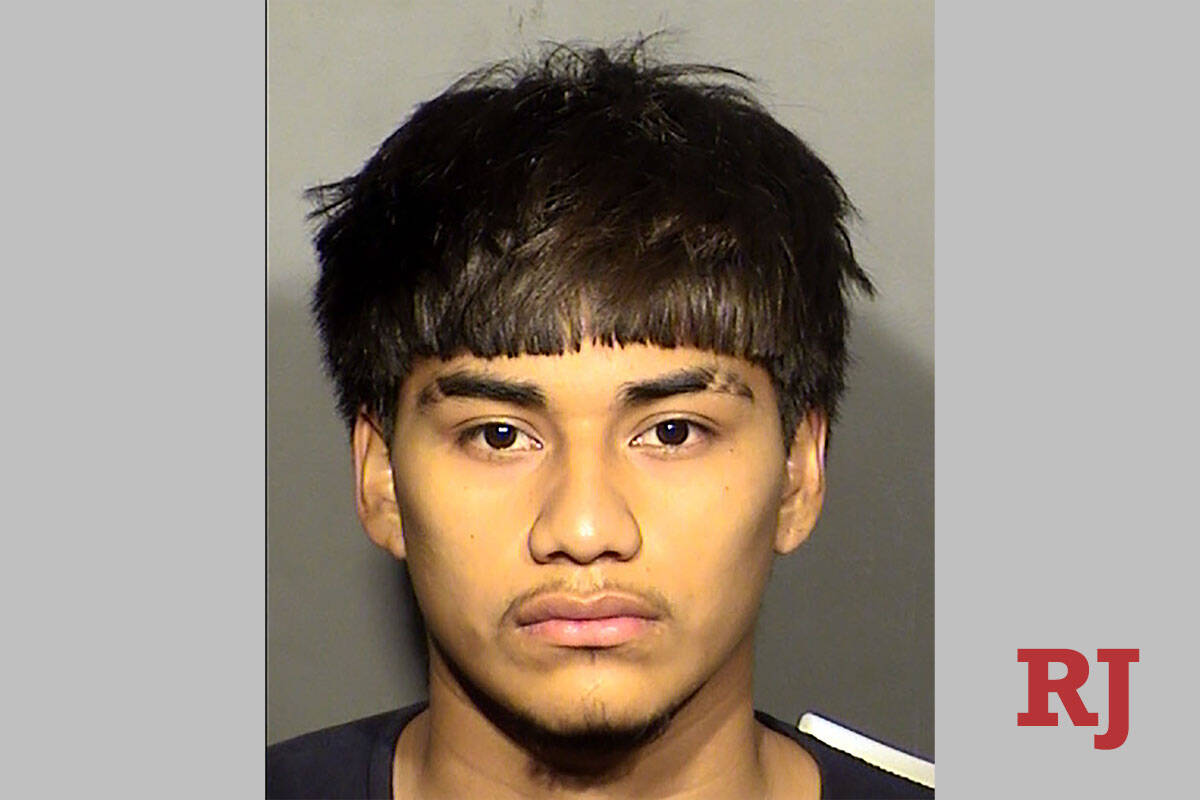 A now 18-year-old man who was facing an open murder charge after his accomplice was shot dead by one of their victims when police said they tried to rob of a group of teenagers at gunpoint has had a murder charge against him dropped.
Fernando Sandoval Jr., was 17 in September, when Marc Garcia-Allred, 16, was fatally shot while the pair allegedly tried to rob a group of teenagers of marijuana vape cartridges in east Las Vegas.
"Yes, the murder charge has been dismissed," Clark County District Attorney Steve Wolfson said in an email. "After further review and receipt of additional information, we determined that it was appropriate to dismiss the murder charge against this Defendant."
It wasn't clear what specifically led prosecutors to the decision.
Sandoval and Garcia-Allred lured the teens to the area of Studio Street and Catino Avenue, near East Craig Road between North Lamb and North Nellis boulevards, the night of Sept. 29, a Metropolitan Police Department arrest report said.
According to the report, while Sandoval and Garcia-Allred held the alleged victims at gunpoint inside a vehicle at 10:25 p.m., Garcia-Allred is alleged to have pulled a chain off the neck of one teen, causing a neck injury. Garcia-Allred also hit a teen over the head with his gun.
One of the teens, who "was in fear for his life," shot Garcia-Allred, the arrest report says.
Because of redactions in the arrest report, it was not clear if the teen who shot Garcia-Allred was the same teen who was allegedly pistol-whipped by Garcia-Allred, or the same teen who had his necklace allegedly pulled off by Garcia-Allred.
The teen who shot Allred-Garcia was left behind after the driver, hearing gunshots, started driving away, according to the arrest report.
The teen "engaged in a gunfight" with Sandoval while running away from the scene, the report states. The Altima came back to pick up the teen while Sandoval put Garcia-Allred into his Dodge Charger and brought him to North Vista Hospital, where Sandoval was detained.
Garcia-Allred was transferred to University Medical Center where he died Sept. 30, the report stated.
Even though Sandoval didn't kill Garcia-Allred, under Nevada law, if a person or group of people are committing a felony that leads to the death of a person, they can be charged with murder.
"Generally speaking, yes, if you and a group of folks work together to either conspire and/or aid and abet each other, and during the commission of that crime, a homicide occurs, you will be charged with murder," Wolfson said in an October interview.
Sandoval's attorney, Matthew Stromenger, declined to comment on the allegations, but he confirmed Sandoval had recently turned 18.
Stromenger said that conspiracy, robbery, and gun charges against Sandoval's were proceeding in juvenile court.
Contact Brett Clarkson at bclarkson@reviewjournal.com.
Original News Source Link – LVRJ

Running For Office? Check out Conservative Campaign Management