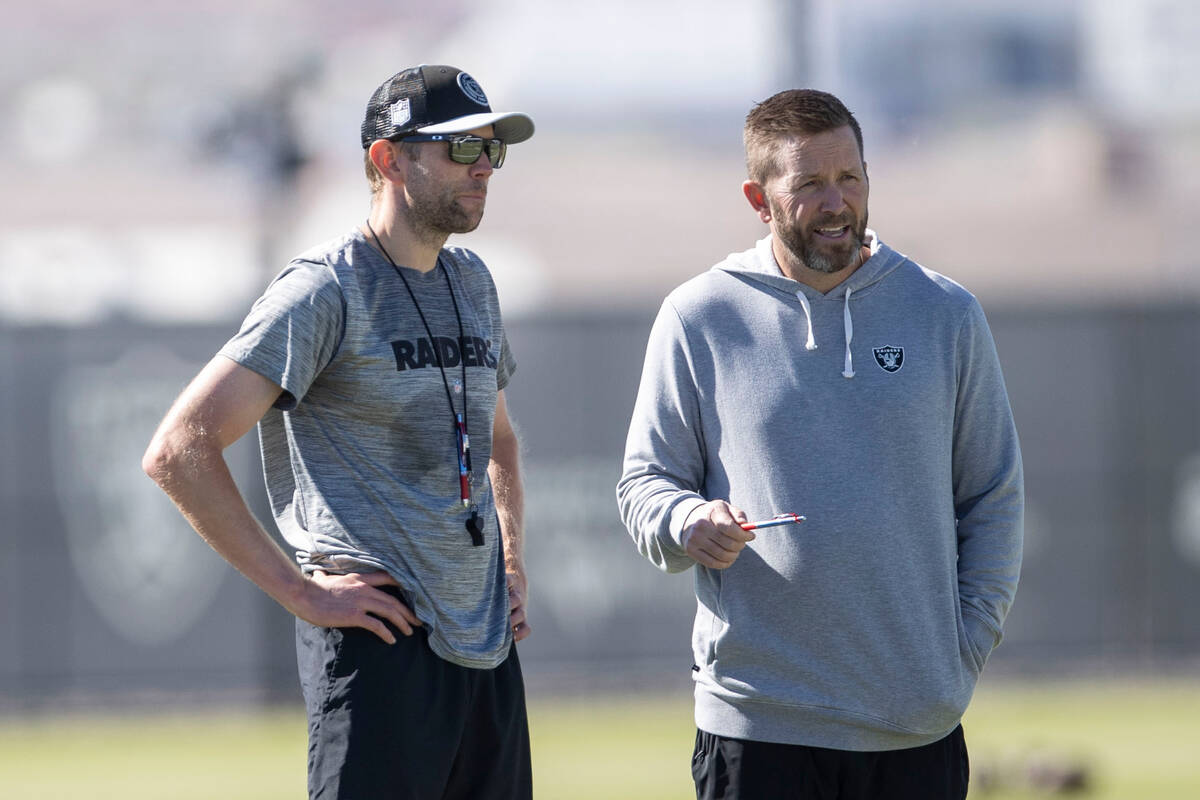 Raiders offensive coordinator Bo Hardegree wanted his players to be confident and comfortable with what they were running in his first game as an NFL play-caller.
So he asked them.
Hardegree went to each position group last week and got feedback about what concepts they thought were working and what could be better incorporated into the offense. He then used some of that information to formulate the game plan for Sunday's game against the Giants at Allegiant Stadium.
"Even during the game, I'm telling them what I'm thinking and what's coming up and asking what they're seeing," Hardegree said Tuesday at his weekly news conference. "They're the guys out there. I'm calling the plays, and I want to call plays they feel confident about, and if there's something I really want to get out there to them, I'll let them know what's coming."
Several players, including running back Josh Jacobs, pointed to that collaborative process for why the Raiders had their best offensive game of the season just days after firing coach Josh McDaniels, who was calling the offensive plays, and offensive coordinator Mick Lombardi.
Hardegree was promoted to offensive coordinator Wednesday. The Raiders had their highest offensive output of the season in a 30-6 win over the Giants.
Jacobs might have been the biggest beneficiary. He briefly had his first 100-yard rushing game of the season, then was tackled in the backfield on his final carry and finished with 98 yards.
After the game, Jacobs credited Hardegree for integrating the information he gathered into the offense.
"They let me get more involved in the run game this week," said Jacobs, who shared with Hardegree what he thought was working well in practice and what plays he felt most comfortable executing. "Then Bo called them at the right time."
The result was a clear commitment to the run game that started early. Jacobs got the ball on the first three plays of the game on a drive that resulted in a touchdown, with five of the six plays being runs.
"I told the guys I want to win the line of scrimmage, be physical, get our running back going and get some confidence like we talked about all week," Hardegree said. "Get that going and then the rest will take care of itself."
He was right. The Raiders eclipsed 100 yards rushing as a team for the first time en route to improving to 4-5. They can get to .500 with a victory over the Jets on "Sunday Night Football."
That rushing production allowed the Raiders to get a lead and stay out of obvious passing situations with rookie quarterback Aidan O'Connell, who struggled under pressure in his first start in Week 4.
"I was really proud of him," Hardegree said. "Our offensive line did a great job of keeping him upright, and he did a really good job of getting the ball out on time as far as the passing game and obviously the running game. It all ties together.
"He handled certain situations really well. Sometimes throwing a ball away is the right thing to do within that timing of the play. I thought his management of the game and staying in the game and not doing too much, not pressing, and just kind of letting it come to him was a big improvement."
Hardegree credited interim coach Antonio Pierce for giving the coaches and players freedom to be themselves and loosening the grip on the creativity and personal expression on and off the field.
The 39-year-old former Tennessee quarterback joked before the game that he was worried about the smallest details, such as remembering to press down the button on the microphone when he wanted to speak into O'Connell's helmet.
"I went out there early and messed around with it a little bit," said Hardegree, laughing. "But it went well. A couple times it got low to the 15-second marker, but I got the play out, and luckily I have a really smart quarterback who can anticipate what I'm calling."
Contact Adam Hill at ahill@reviewjournal.com. Follow @AdamHillLVRJ on X.
Up next
Who: Jets at Raiders
When: 5:20 p.m. Sunday
Where: Allegiant Stadium
TV: KSNV-3
Radio: KRLV-AM (920), KOMP-FM (92.3)
Line: Jets -1; total 36
Original News Source Link – LVRJ

Digital Marketing Experts Check out digital marketing experts at KingdomX.com