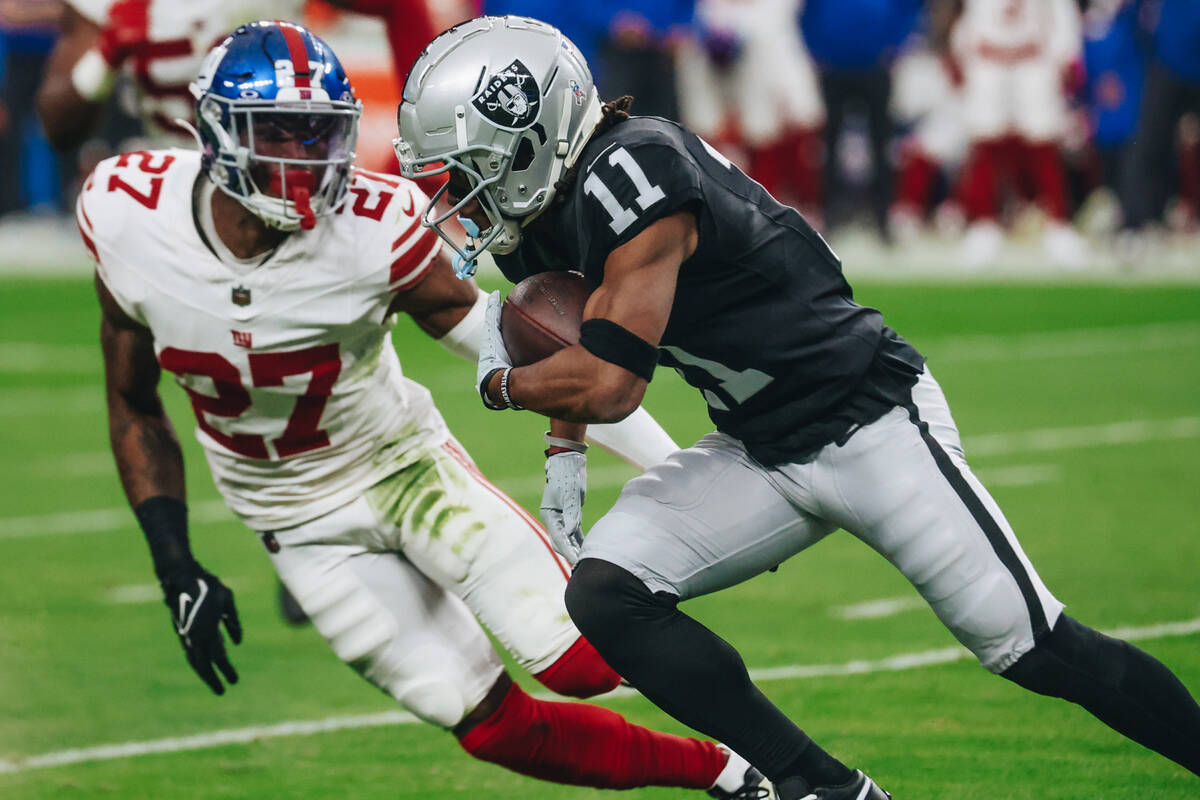 Raiders rookie receiver Tre Tucker has been running routes against Jets star Sauce Gardner since they were 150-pound freshmen at Cincinnati.
The close friends might get a chance to do it before a national TV audience when the Raiders host the Jets on "Sunday Night Football."
"We played together for so long, so we'll share a few laughs, but it will be business as usual," Tucker said of the swaggy star he still calls Ahmad. "One of the reasons we're best of friends is that we're both such competitors. It's going to be head to head. He knows I'll bring it, and I know he'll bring it. I wouldn't expect anything less. He's one of the best in the league."
Tucker trained with Gardner in the offseason, and the two keep in touch regularly. That might change as the game draws closer, but Gardner is the type who might text clips of Tucker to him while he's watching film to prepare for the game.
Regardless, there is likely to be hugs and smiles on the field between two friends who have come so far since their early days at Cincinnati.
"It's been tremendous to watch his development," Tucker said. "I saw him when he was a freshman. I was 149 pounds, and he was 150. To see him sprout up and become the best DB in the league is really wild from the perspective I saw him from. He's a dog."
Tucker also is starting to flourish. The speedster has eclipsed 60 scrimmage yards in two of the past three games and made a spectacular diving catch for the first 50-yard reception of his career Sunday against the Giants.
"It's something I've done in practice, so getting it done on the field is just business as usual," he said. "You expect yourself to make those types of plays."
Tucker knows his speed can be a weapon and believes the new coaching staff will continue to get him more involved.
"Speed is king," he said. "Definitely just going to keep my head down and keep working, but it's kind of one of those things you can feel going through the game plan."
Injury report
Starting left tackle Kolton Miller missed practice for the second straight day with a shoulder injury and appears to be trending in the wrong direction for Sunday's game.
Fullback Jakob Johnson remains in concussion protocol and was the only other player to miss practice.
Several players were limited in practice. They were linebacker Divine Deablo (ankle), cornerback Marcus Peters (knee), reserve quarterback Brian Hoyer (knee), defensive end Maxx Crosby (knee), cornerback Nate Hobbs (ankle), tight end Austin Hooper (calf), offensive tackle Thayer Munford (neck) and guard Greg Van Roten (biceps, back).
Welcome
Veteran tight end Jesse James was home in State College, Pennsylvania, when his phone rang Tuesday afternoon asking about his readiness to sign a practice squad deal with the Raiders.
He was in Las Vegas by the evening.
"It's tough to get a flight, so I was lucky in that regard," he said. "At this point of the season, it's getting late, so I was either going to play or call it. But I feel good. I could play tomorrow. I've been doing this for a while. The concepts are familiar. I've had similar verbiage in the past, and football is football."
The 29-year-old has 157 catches and 12 touchdowns in 104 games with four franchises. He spent most of last season on injured reserve with the Browns and was released by the Saints in training camp in August. James was waiting for the right opportunity and found it through Raiders interim general manager Champ Kelly, whom he worked with in Chicago.
"I see the way (the Raiders are) trending and the way the players have taken over (the culture)," James said. "(Interim coach Antonio Pierce) looks like he's doing a great job, and I had a relationship with Champ, so it was appealing in that way knowing he's honest in what he expects."
Contact Adam Hill at ahill@reviewjournal.com. Follow @AdamHillLVRJ on X.
Original News Source Link – LVRJ

Digital Marketing Experts Check out digital marketing experts at KingdomX.com