After years of secrecy, the B-21 Raider emerged from its Palmdale hangar Friday morning and took its first flight, soaring through the sky and giving plane enthusiasts, contractor employees and the public its first glimpse of the futuristic-looking bomber in air.
The B-21 bomber, which is being built by Northrop Grumman Corp., took off from the secretive Air Force Plant 42 in Palmdale before heading north toward Edwards Air Force Base, said Matt Hartman, a photographer who was out in Palmdale in hopes of taking photos of the plane after he'd heard rumors that a flight might be imminent.
About 80 people crowded near the Palmdale Regional Airport to try to see the first flight with their own eyes. Once the bomber flew by, "you could hear a pin drop," Hartman said.
The U.S. Air Force confirmed that the B-21 is in flight testing, and called it a "critical step" in the bomber's test program. Flight testing includes not just flying operations but also ground and taxiing tests. Edwards Air Force Base is in charge of testing and evaluation for the B-21.
The flight test program "moves us another step closer to reaching operational capability," Northrop Grumman said in a statement Friday. In December, Northrop Grumman unveiled the B-21 bomber for the first time, although that reveal only showcased the front of the aircraft. Technical details of the plane have so far been highly classified.
The Air Force plans to buy at least 100 B-21 stealth bombers by the mid-2030s for about $80 billion. Already, six B-21 bombers are in production, the Air Force said. The new planes will eventually replace the aging B-1 and B-2 bomber fleets.
Although the B-21's flying-wing shape looks similar to that of the B-2, it has improved stealth technology and will be more supportable and maintainable than its predecessor, which has notoriously high maintenance costs.
The bomber is designed to fly both crewed and uncrewed missions, reflecting technological updates that were not available when the B-2 was built in the 1980s.
The Air Force plans to get its first few B-21 bombers, which are designed to fly long-range missions while evading radar detection, by the mid-2020s. The bomber is part of the U.S. military's effort to update its nuclear triad, which includes warheads, submarines and missiles, as global rivals such as China also improve their weapons technology.
The program has boosted aerospace employment in the Antelope Valley, long known for its aerospace manufacturing jobs. In December, more than 7,000 people were employed at Northrop Grumman's Antelope Valley facilities, which is double the number there in 2015 when the company won the bomber contract.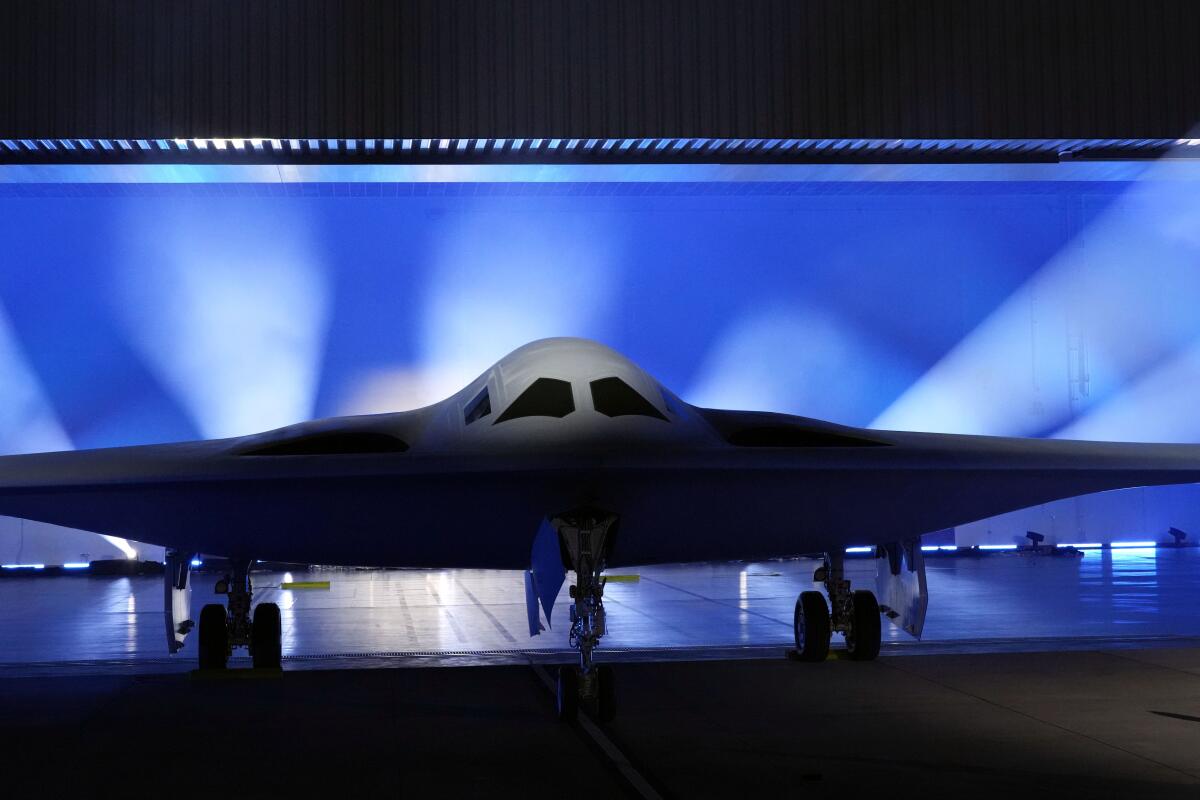 Original News Source Link – LA Times

Running For Office? Check out Election Day Strategies