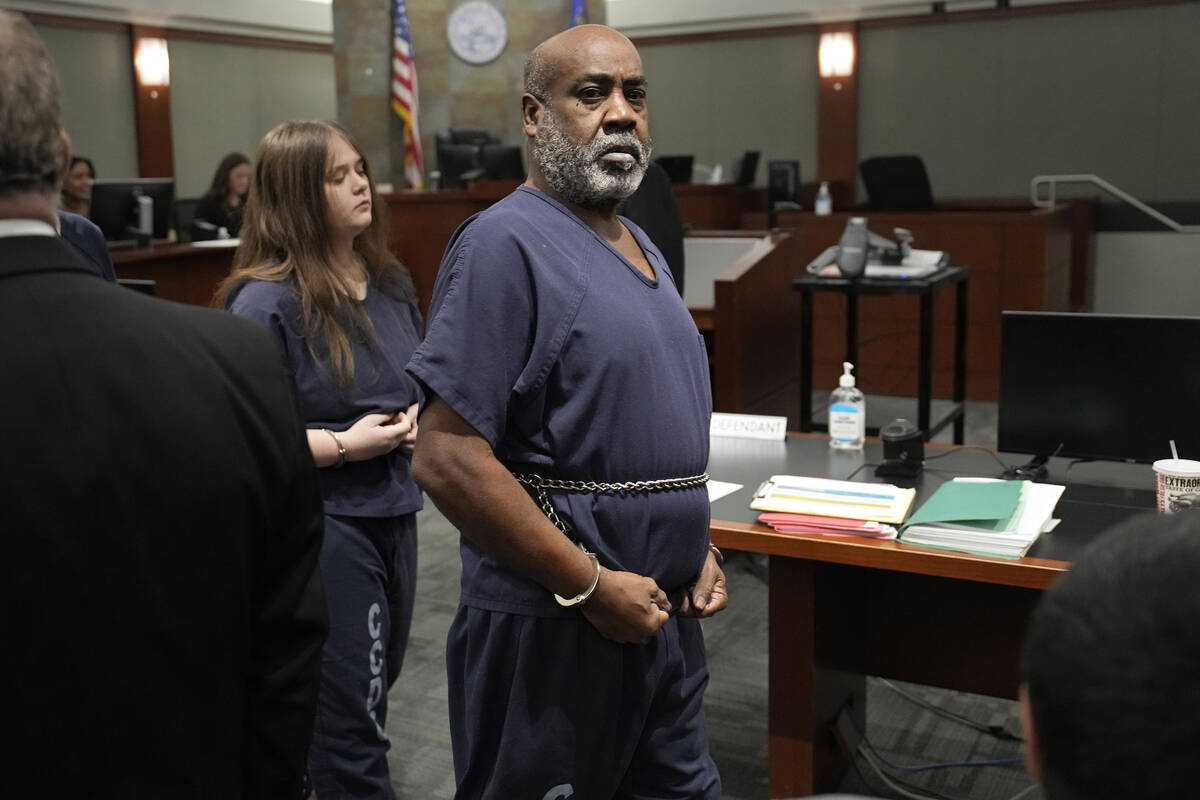 Duane "Keffe D" Davis, the only suspect arrested in the slaying of hip-hop icon Tupac Shakur, pleaded not guilty on Thursday to a murder charge in connection with the 1996 killing.
The 60-year-old alleged member of Compton's South Side Crips has been indicted on one count of murder with a deadly weapon with the intent to promote, further or assist a criminal gang.
"As to that charge how do you plead, guilty or not guilty?" District Judge Tierra Jones asked Davis.
"Not guilty," Davis said. He also waived his right to a speedy trial within 60 days.
Davis is accused of being the "on-ground, on-sight commander" responsible for orchestrating the plan to exact revenge on Tupac and Death Row Records CEO Marion "Suge" Knight as part of an ongoing feud between the South Side Crips and the Bloods-associated Mob Piru gang.
Prosecutors told the judge on Thursday that they would not pursue the death penalty against Davis.
"We talked about it, and I determined that it's not a case in which we should seek the death penalty," Clark County District Attorney Steve Wolfson said after a brief court hearing.
Meanwhile, Robert Arroyo and Charles Cano, with the Clark County special public defender's office, were appointed to represent Davis. Special public defenders serve on cases where there is a conflict of interest with the Clark County public defender's office.
Attorney Ross Goodman, who had represented Davis at a prior hearing, said that he was no longer acting as his Las Vegas attorney because Davis was "not able to meet the terms of the agreement." But Goodman attended court on Thursday, and said he hopes to serve as Davis' attorney again in the future.
Davis' daughter, son, and wife, Paula Clemons, all attended court on Thursday as well. Davis was seen glancing back at the audience during the court hearing, and he briefly flashed a thumbs up sign as attorneys spoke at the judge's bench.
His family declined to speak to reporters outside the courtroom.
Davis is alleged to have planned the drive-by shooting that killed Shakur on Sept. 7, 1996, in retaliation for a fight earlier that night at the MGM Grand involving Shakur and Davis' nephew, Orlando Anderson. Prosecutors have said that Davis is the only man left alive from the four people believed to have been inside the car that opened fire on Shakur.
In recent years, Davis has made public comments about the events surrounding the shooting in interviews and his 2019 co-written book, "Compton Street Legend," in which he wrote that he was in the car with Shakur's shooter.
Wolfson said Thursday that Davis' own statements would be part of his trial. While authorities have said that evidence does not point to Davis firing the weapon that killed Shakur, Wolfson pointed out that under Nevada law someone can be charged with murder for aiding and abetting in a killing.
Wolfson said that his office would not treat the case differently because of the widespread attention it has gathered.
"The fact that the world is watching really doesn't matter," Wolfson said. "What we care about is presenting the evidence to a jury, so that the jury can make the ultimate decision."
Contact Katelyn Newberg at knewberg@reviewjournal.com or 702-383-0240.
Original News Source Link – LVRJ

Running For Office? Check out Conservative Campaign Management